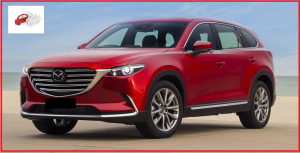 DABAS Blog post, late August 2018.
Hello readers, Hope the week has been going well; following on from last week's blog post, due to Melbourne's growing families' interest in 7-seat family cars, we will have a "general in nature look" at a popular brand-new 7-seater option: the 2018 Mazda CX-9, which is the second generation of the Mazda CX-9, last updated in 2017. Could this be your growing family's next 7-seater car?  We hope you find this an interesting read, providing some useful general information to help you on your car-buying journey.
If you would like DABAS's assistance buying a car, please click here.
Here we go
To start with, some trivia once again, for the car enthusiast
The Mazda CX-9 is a mid-size 7-seater crossover SUV, manufactured since April 2006 by Mazda in Japan, at its Ujina 1 plant in Hiroshima Prefecture.  Despite the Mazda CX-9 being built in Japan, the CX-9 is not sold in Japan's own domestic market, as it exceeds Japanese government dimension regulations etc. Instead, the closely related Mazda CX-8 is sold in the Japanese market. This second generation of Mazda's CX-9 has been on sale in Australia since mid-2016 with an update last year.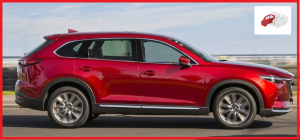 The exterior design of this second-generation Mazda CX-9 follows Mazda's design philosophy, Kodo. It is shorter than the previous generation, but rides on a longer wheelbase, resulting in shorter front and rear overhangs.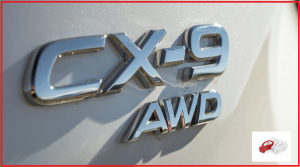 Weight is also down 90 kilograms in FWD and 130 kilograms in AWD versions,
This generation Mazda CX-9 won the car of the year award in 2016 from Australian carsales and it was also voted the Wheels magazines car of the year in 2017 by their reviewers. Some say the Mazda CX-9's main sales rivals in the segment include the Toyota Kluger, Holden Equinox (plus the previous Holden Captiva), Hyundai Sante-Fe, Toyota Prado, Mitsubishi Outlander, Mitsubishi Pajero and the KIA Sorento. . .   just to name a few! As the flagship of Mazda's SUV range the CX-9 is available in four trim levels (detailed further down in this blog page), offering an abundant choice of specifications to match your individual requirements and budget. Mazda pride themselves on their commitment to quality and customer service/buyer's peace of mind, which is why every new Mazda is now backed by a five-year, unlimited kilometer warranty. Full details of the Mazda new-car warranty, including the special offers currently available, can be found on the Mazda Australia website.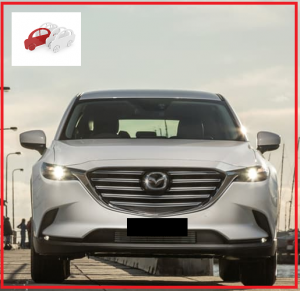 The engineers at Mazda worked overtime, releasing this updated version of the CX-9 large SUV in 2017, hardly a year after its local Australian launch of this second-generation Mazda CX-9 in July 2016. Among the most recent upgrades to all current new Mazda CX-9 models is the standard fitment of automatic power-folding side mirrors, improved sound damping in the cabin and the addition of G-vectoring control to improve stability. The update also upgraded the autonomous emergency braking system in the Azami variant, which now functions between 4km/h and 80km/h, instead of the earlier pre-update models 4km/h 30km/h.
Every new 2018 CX-9 benefits from a second top-tether attachment in the third-row seats, which means ALL "five rear seats" can be fitted with booster or child seats. There are two ISOFIX points for the second-row seats.
In the updated CX-9, Mazda added an extra level of power adjustment for the driver's seat: a tilt function for the front under-thigh edge. Mazda also enabled easier entry and exit for third-row passengers by providing increased tilting for the second-row seats. With the recent update to the Mazda CX-9 there was also a new colour made available in the range, Soul Red Crystal Metallic; this amazing colour was first seen in Australia on the new-look Mazda CX-5, and on a sunny day it is as glistening sparkly as Santa-Claus's sleigh's tinsel.
Some more information on the Soul Red Crystal Metallic colour:  Mazda created this new advanced paint technique called "Takuminuri", which means artisan colouring. On top of the body panels, a reflective and absorptive layer is applied which features both light-absorbing flake and high-brightness aluminum flake. On top of that a translucent layer is applied, featuring a high-chroma pigment. A clear top coat is then applied that finishes the paint process, resulting in this colour's amazing shine, sparkling striking colour and Christmas-tree-tinsel-like metallic flake.
The entry level Sport model is priced from $43,790 (excluding on-road costs)
and features the following standard equipment:
 >> 18-inch alloy wheels >> LED headlights >> Three-zone climate control >> Rear-view mirror with auto dimming function >> Seven-inch touch-screen display >> Satellite navigation >> Bluetooth hands-free and audio streaming functionality >> Keyless push-button engine start >> Cruise control >> Reversing camera >> Rear parking sensors>> Blind-spot monitoring >> Rear Cross-Traffic Alert >> Smart City Brake Support (AEB) >> Black cloth seat upholstery , Options are limited to premium paints. Soul Red metallic and Machine Grey metallic are both priced at $300 on all trim levels.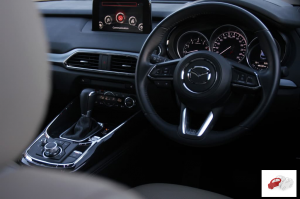 Safety and driver assistance: Safety basics are covered well by the entry-level CX-9 Sport. Standard features on all trim levels include rear parking sensors, reversing camera, rear cross-traffic alert, blind-spot monitoring and autonomous emergency braking, which can function at speeds of up to 30km/h. Comfort and convenience A seven-inch full-colour touch-screen display is standard on the CX-9 Sport models, while all other CX-9 trim levels are upgraded to an 8.0-inch system. Every CX-9 gets satellite-navigation included in the standard equipment.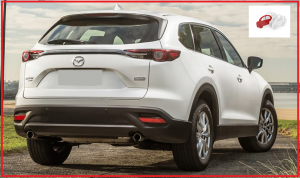 Choosing the CX-9 Touring will ensure LED front fog lights and automatic headlights and wipers,
. . . but for bigger ticket items like the electric glass sunroof, hands-free keyless entry and the convenient powered tailgate, the GT is the minimum requirement:  A step up the 2 levels to the GT model adds front parking sensors and Mazda's 'Active Driving Display', a head-up display system projecting driver information – speed and navigation instructions directly on the windscreen. More driver assistance technology, including radar cruise control and adaptive LED headlights, can be found in the top-spec CX-9 Azami. The extra money spent over the equivalent GT also gets you lane departure warning, a lane-keeping assist function and an AEB system that can operate at freeway speeds.  Music lovers will be drawn to the GT and Azami models, which feature digital radio piped through a 12-speaker, 249-Watt Bose premium sound system, also a sportier exterior look is added with the 20-inch alloy wheels.  There are two levels of interior trim in the CX-9 range starting with black cloth, which is exclusive to the Sport models. All other CX-9 models feature leather upholstery, black only for Touring variants, while those who would like a GT or Azami CX-9 variant can also choose a 'natural stone' (beige) leather trim as well. Only the Sport models miss out on front-seat heating and power adjustment for both driver (eight-way) and passenger (six-way). The Azami model also has the added convenience of a two-position memory function for the driver's seat.
A general-in-nature pricing guide for the full 2018 Mazda CX-9 range is as follows: (plus ORCs),
-Sport: The latest model range starts with the entry level CX-9 Sport.
2.5-litre Turbo, petrol, front-wheel drive – $43,890
2.5-litre Turbo, petrol, all-wheel drive – $47,890
– Stepping up from there is the Touring trim level:
2.5-litre Turbo, petrol, front-wheel drive – $50,290
2.5-litre Turbo, petrol, all-wheel drive – $54,290
–Followed by the GT:
2.5-litre Turbo, petrol, front-wheel drive – $58,790
2.5-litre Turbo, petrol, all-wheel drive – $62,790
–The highest specification, and most expensive CX-9 is the range-topping Azami.
2.5-litre Turbo, petrol, front-wheel drive – $60,790
2.5-litre Turbo, petrol, all-wheel drive – $64,790
Engine and transmission choices
All models remain powered by a 2.5-litre four-cylinder turbo-petrol engine with 170kW/420Nm of power, with a choice of either front-wheel-drive or all-wheel drive; estimated fuel consumption is reported at 8.4L/100km.
Every model has a six-speed automatic transmission as standard
– 2.5-litre Turbo, petrol, front-wheel drive, automatic
– 2.5-litre Turbo, petrol, automatic all-wheel drive, (adds $4000)
At DABAS we know that buying a car to suit your needs can be one of the biggest purchases in your life; we hope this intended to be "general-in-nature advice and information" blog page has provided some helpful assistance for you in deciding the path of your car-buying journey. We look forward to having a chat when the need arises for you to update your car; to assess your personal car-safety requirements and buying needs to suit your lifestyle.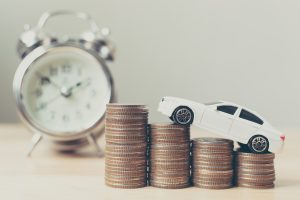 And importantly your set specified budget!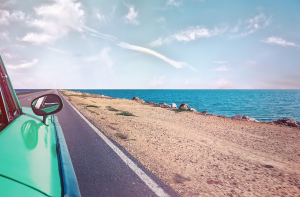 Whatever roads your life journey takes you on, DABAS can help you find a car to travel those roads.
Please note:  All pricing mentioned in this blog post is to be considered as a general-in-nature summary and expired within 24 hours of publishing. – specifications mentioned in this blog page will be confirmed together with your chosen Mazda CX-9's sales representative in their showroom upon your transition to becoming a client of DABAS.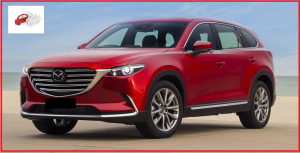 DABAS is aware of some things to consider and to be aware of when purchasing a 2018 Mazda CX-9, and spending within this higher value price range does require due diligence: these will be discussed upon your transition to becoming a client of DABAS.
To contact DABAS to discuss your car-buying needs . . .  please click here
To see some more helpful information, go to our blog archives index . . .  please click here
To see a step-by-step example of a DABAS car-buying journey. . .  please click here
To see some interesting things to consider when buying a car. . .  please click here
To see another 7-seater option; a little bit cheaper than a 2018 Mazda CX-9 . . . please click here
Thanks for visiting DABAS's website and blog: Have a great day
Cheers, Tim.