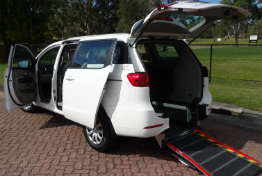 DABAS blog post May 21st 2018: Hello readers, a client recently noticed on the DABAS website's main information tabs, that l had previous experience helping people with special needs in the health care sector, including community care organizations whose clients required their vehicles to have wheelchair accessibility.
The client asked if l could share some research information in a blog post for anyone needing to buy or rent wheelchair-accessible transport that may be helpful to other people with similar needs  (and who don't want to rely on a Maxi Taxi-style transport system).  With that in mind, please find below some- general in nature- information to assist in buying or renting a wheelchair-accessible vehicle, which DABAS hopes will assist you.
If you would like DABAS's assistance in purchasing a wheelchair-accessible vehicle ….  please click here
So here we go: In this week's Blog we will focus on information discussed with "Wheelies" Van sales and rentals Melbourne depot representative: Geoff Mendes; whom l have worked with in the past.
At "Wheelies" . . .  a specialist in wheelchair-accessible van sales and rentals – they offer sales and long- and short-term rentals of wheelchair-accessible vehicles in a variety of popular makes and models to suit your personal space requirements and needs. They sell a variety of used low-km wheelchair-accessible vehicles with at least 1 year of the manufacturer's warranty remaining, also selling brand-new & near-new wheelchair-accessible vehicles with support from their parent and manufacturing company K.M. Kite Pty. Ltd who focus on the modification and sales of a selected range of wheelchair-accessible vehicles. These modification are engineered/approved/ certified by government road authorities and can be manufactured within six to eight weeks of receiving your order. All this is possible due to their vast knowledge and years of experience with wheelchair-accessible vehicle modifications and manufacture.
New vehicles built are supplied ex Gold Coast (Queensland) and Sydney with pick-up in Melbourne available.
Please note; The process of converting other makes and models of vehicles that are not in "Wheelies" selected range as listed on their website could take up to twelve months or more to manufacture, as they would be considered a once-off- or one only – modification. As you can understand, this would involve significant time costs in engineering , planning and design approvals/certification: with individual components needing manufacturing and sourcing.
Please see their website for wheelchair-accessible vehicles for sale or hire at the below link/s
http://www.wheeliesvanrentals.com.au/vehiclesales.html
If you would like to hire a wheelchair-accessible vehicle for a short or long term go to the below link
To visit the parent manufacturing company's website for information on a new or custom conversion go to http://www.kmkite.com.au/
"Wheelies" Van Rentals currently operates in Melbourne and alternatively . . . along the east coast of Australia with services from Cairns to Adelaide and Tasmania (Hobart).
See their website for depot locations: selected models are available at each location.
If you are planning on a holiday to the land of the long white cloud (NZ) and need a vehicle, long or short term, visit their website for services also available in New Zealand.
At DABAS we know that buying a car to suit your needs can be one of the biggest purchases in your life; we hope this Blog page has provided some helpful information to assist in your personal transportation needs.  At DABAS when purchasing a vehicle we do recommend any used vehicles selected undergo a full VACC or RACV vehicle inspection prior to your final purchase decision being made.
We look forward to having a chat when the need arises for you to update into your next car; to assess your personal car-safety requirements and buying needs to suit your lifestyle,
And most importantly . . . your set specified budget!
To contact DABAS to discuss your needs . . .  please click here
And after reading this Blog, if you are now considering a day out, excursion, weeks' vacation or longer for a family member with wheelchair-accessibility needs; consider giving "Wheelies" van rentals a call, with bookings/reservations easily arranged on-line or by phone 1300 352 742 
( Psst . . best to book your dates early to avoid disappointment).  
Thanks for visiting DABAS's website and blog: Have a great day,
Cheers; Tim