DABAS Blog post;  Late – June 2018
Hello readers: with the end of this financial year rapidly approaching on the 30th of June, Melbourne new-car dealers are offering some amazing savings on current model drive-away deals across the various major brands and variants including Holden, Hyundai, KIA, Ford, Mitsubishi, Nissan, Toyota, Suzuki , Mazda, Honda and Volkswagen (just to name a few). If you would like DABAS to assist you in your journey to purchase any of the new 2018 new-car variants on EOFY sale, please click here.
In this DABAS Blog post we will have a general -in-nature look at the Hyundai Kona Active (and variants) which are currently included in the amazing end-of-financial-year sales at some Melbourne Hyundai dealers near you. We hope you find it an interesting read, whilst also providing some useful information to help you on your car-buying journey.
Here we go: the Hyundai Kona hit Australian showrooms in late 2017. The Kona name comes from the coastal region on the Big Island of Hawaii.
The Kona has a bold exterior design, thanks to its two-tier headlight design, 'Cascading' front grille, optional two-tone exterior paint, slim tail-lights and funky chunky guards.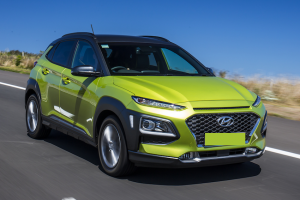 Today's modern fast-paced changes in technology are evident in the Kona's headlamp design with thin LED daytime running lights sitting high either side of the mesh grille, with the headlights separate and mounted a bit lower, giving the Kona a distinctive look that compares well with the latest European designs.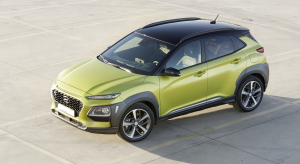 While the Kona's exterior has a certain presence, the protective cladding around the wheel arches emphasises its SUV look; adding to the Kona's bold look is also a fantastic and funky bright colour palate on offer that Hyundai Kona buyers can choose from to suit their personality.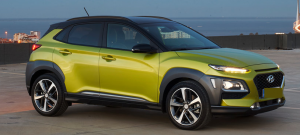 The Hyundai Kona is built on a new platform shared with the new i30 hatch and, size-wise, Hyundai claims it's one of the more compact vehicles in the class; compared to the HR-V (as featured in an earlier June 2018 DABAS blog post), the Kona is shorter, a touch wider and similar in height. In terms of its physical size, the Kona measures 4165mm long, 1800mm wide and 1550mm tall, while the wheelbase stretches 2600mm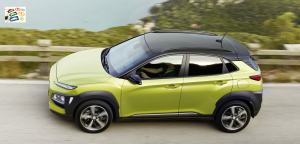 This sees the Hyundai Kona filling pre-requisites for balancing performance, handling, styling, features and a reasonable amount of luggage room. The Kona also has a shallow compartment under the rear floor for storage of small items.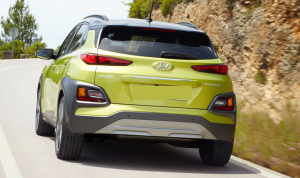 The Hyundai Kona line-up is extensive, apparently over 29 specification of variants are available across the combined Active, Elite and Highlander grades, 2WD and AWD, and with  the choice of two petrol engines – a 2.0-litre for 2WD versions and a more powerful 1.6-litre turbo petrol engine for the AWDs.
Pricing starts at RRP $24,500 plus ORC for the Active 2.0-litre, whilst the Elite 2WD is priced RRP at $28,500 plus ORC and goes all the way up to RRP $36,000 plus ORC for the 1.6-litre Highlander AWD.
Of the "technically three models" – Active, Elite and Highlander – today we will look a little deeper into the Kona Active variant, as it is reported that the majority of Kona buyers are purchasing this (entry-level) Kona Active variant, whilst noting: you do need to spend a bit extra to add on auto emergency braking (AEB). So the base model Active starts at RRP $24,500 plus ORC with a further $1500 price additional for the Safety Pack.  The Safety Pack not only contains high – and low-speed AEB, but also adds lane-departure warning, lane-keep assist, forward-collision warning, rear cross-traffic alert, blind-spot warning, driver-attention detection and heated folding mirrors; that of course is $1500 well spent for the extra safety provided to the driver and Kona occupants (plus other road users).
Before the 'Safety Pack' is added on the Active variant, you've got 16-inch alloy wheels, air-conditioning, six airbags, ABS, stability and traction controls, cloth trim, remote central locking, rear-parking sensors, reversing camera, cruise control, auto halogen headlights, leather steering wheel and gear selector, power windows and mirrors and a space-saver spare.
Power in the Active comes from Hyundai's 2.0-litre Multi-Point-Injection engine (further up the range is the 1.6-litre turbo engine), with 110kW/180Nm to drag around 1300kg. The Active is a front-wheel-drive proposition using Hyundai's own six-speed automatic.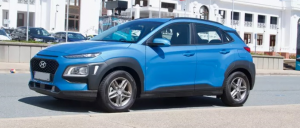 Usually metallic paint colours on the Hyundai Kona Active add a further $595, likewise all colours available other than the standard base white.
Engines: Hyundai's 2.0-litre four-cylinder delivers 110kW and 180Nm of power, and is matched to a six-speed automatic transmission. Claimed fuel consumption for the 2.0-litre is 7.2L/100km
The Kona AWD Elites use Hyundai's more powerful 130kW/265Nm turbo 1.6-litre four-cylinder, and seven-speed dual-clutch transmission.
Little separates the engines in the Hyundai Kona from its segment rivals, the Mazda CX-3 and Honda HR-V, with just 6kW and 20Nm between them, and claimed fuel consumption figures are similarly close.The on-road performance from the 2.0-litre in the Kona matches rivals the CX-3 and HR-V.
It is reported that the Hyundai Kona's six-speed automatic transmission's spread of ratios is nicely matched to the engine's characteristics, and it's only towards its maximum of 6000rpm where engine noise can start to become obvious and intrusive.
The 2WD suspension design is conventional but the AWD Kona uses a more sophisticated multi-link design. For the Australian market, Hyundai evaluated a number of different dampers, spring and stabiliser bar combinations suitable for Australian road conditions, before settling on different combinations for the 2WD and AWD versions. Some of the Kona variants come with 17-inch alloys and low-profile tyres, and it is reported that the resulting ride is a little firmer but not too unsettling.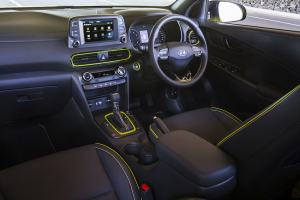 Inside the cabin, the stand-alone infotainment screen sits up in the dash next to the instrument cluster, lowering the overall dash height, providing an open airy feel. The major controls seem to be well laid out, the digital speed readout is great, and the driving position is said to feel good ergonomically.
To see the complete Hyundai Kona variants including full specifications, trim-levels and the drive-away deals Hyundai Australia is currently offering on the Hyundai Kona please go to the Hyundai Australian website.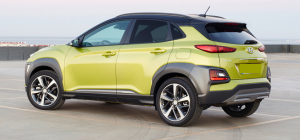 If you would like DABAS to assist you in your journey to purchase one of the 2018 Hyundai Kona variants please click here.
At DABAS we know that buying a car to suit your needs can be one of the biggest purchases in your life; we hope this intended to be general -in-nature advice and Blog page has provided some helpful information to assist you in deciding the path of your car-buying journey.
Please note: All pricing mentioned in this Blog page would be considered expired or sold out within 12 hours of this Blog-post's publication date: all specifications etc. – mentioned in this blog page will be confirmed together with a Hyundai sales representative in their showroom upon your transition to becoming a client of DABAS.
If you would like DABAS's help and assistance please click here
We look forward to having a chat when the need arises for you to update your car; to assess your personal car-safety requirements and buying needs to suit your lifestyle,
 And importantly your set specified budget!
Whatever roads your life journey takes you on, DABAS can help you find a car to travel those roads.
To contact DABAS to discuss your car-buying needs . . .  please click here
For helpful information; see our past blogs archive . . .  please click here
Thanks for visiting DABAS's website and blog: Have a great day
Cheers, Tim.