DABAS Blog post June 4th 2018
Hello readers, DABAS hopes winter 2018 is off to a good start for you. Recently I was asked by a loyal Honda owner wanting to update: what is the difference between the Honda HR-V and the Honda CR-V, both popular cars in the Melbourne and Australian marketplace.
In short: the current Honda HR-V is a small 2WD automatic (only) 5-seater SUV.  Its more expensive bigger sibling, the Honda CR-V, is available – pending the variant – as a 2WD or 4WD, and/or a 5- or 7-seater. The CR-V also has a different motor set-up to the HR-V; all CR-V variants are also automatic transmissions.
With the above in mind, let's take a closer look at the Honda HR-V, as it happens to be on sale this week; for the CR-V enthusiast's we will look more closely at the Honda CR-V in a future blog post.
This week's DABAS blog page will look take a general -in-nature snapshot look at the HR-V range variants available at Honda dealers currently.
Here we go: the first time around, from 1999 to 2001, the Honda HR-V was one of the original small SUVs being sold in Australia. In 2015 Honda brought the new generation HR-V back to Australia; by then in Australia small SUVs like the Mitsubishi ASX and Mazda CX-3 were selling extremely well. Since then even more small SUVs have arrived on the market, such as the Toyota C-HR and Hyundai Kona (just to name a few of many).
You would love an HR-V with a manual transmission? Sorry – the CVT (Automatic) is the only transmission on offer across the variants of the HR-V.
And if there is a car enthusiast reading this week's DABAS blog who wants to know if the HR-V has a timing chain or a belt – the answer is timing chain.
A towbar kit is also available from Honda dealers for the HR-V, and the braked towing capacity is 800kg.
The HR-V range has a choice of grades to suit your personal lifestyle needs: the general retail pricing is below
There's the entry level VTi , which normally generally lists (RRP) for $24,990, +ORC
Then the VTi-S, which normally generally lists (RRP) for $27,990 +ORC
And then the top-spec VTi-L , which normally generally lists (RRP) for $33,340 +ORC
The VTi-L with the ADAS safety pack, which normally generally lists (RRP) for at $34,340 +ORC
*ORC= plus additional on-road costs of registration, CTP, and dealer delivery fee's, etc.
Honda dealerships currently have great drive-away packages available on a brand-new Honda HR-V starting from $26,490 drive away (that includes the ORC)
All HR-Vs have the same engine size, so the price difference comes down to the model variants' additional features.
HR-V – VTi
-The entry level VTi comes standard with a 7.0-inch multimedia touchscreen with Bluetooth connectivity for your iPhone or Android smartphone, sat nav-navigation system/GPS, and a reversing camera, but there is no Apple CarPlay or Android Auto, nor is there a CD or DVD player. The screen hooks up to a sound system with six speakers (no subwoofer); included also in VT-I spec is climate-control air-conditioning, cloth seats, auto halogen projector headlights with daytime running lights (DRLs), AM/FM radio, LED tail-lights, electric park brake, cruise control, and 16-inch alloy wheels.
-VTi -S – Along with all of the VTi features, it  gets 17-inch rims, proximity key (also known as keyless entry or smart key), push-button start, LED headlights and DRLS, a leather steering wheel and advanced safety equipment such as city-speed auto emergency braking (AEB).
–VTi-L – The range-topping VTi-L is a fairly big leap up and has leather upholstery, power adjustable driver's seat, heated front seats, panoramic sunroof, and front and rear parking sensors. The VTi-L still has the same infotainment system as the VTi-S.
–VTi-L-ADAS pack – Only VTi-L buyers are able to option the $1000 Advanced Driver Assist System (ADAS) pack, too, which is really just extra safety equipment in the form of Forward Collision Warning, Lane Departure Warning and adaptive high beams.
Psst: there's no power tailgate across the HR-V variants, not even on the top of the range VTi -L.
If you're looking at a Honda HR-V, here is a general-in-nature price guide vs the competitors in its segment: 
-Toyota's C-HR, which ranges in price from $28,990 to $35,290
-The smaller Mazda CX-3 starts at $20,490 to $37,890
-The Hyundai Kona costs from $24,500 to $36,000
-The Mitsubishi ASX from $25,000 to $37,000
As a model comparison, versus its nearest rivals, the HR-V is good value for money – but all Honda HR-V models are front-wheel drive (4×2) – there's no all-wheel drive (AWD) or 4×4 available, which can be had in some of the competitors'models.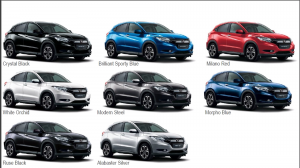 Colours: the only no-cost paint colour is Taffeta White;  White Orchid Pearlescent , Carnelian Red, Morpho Blue, Lunar Silver, Modern Steel (grey), and Ruse Black (purplish in some lights) are all optional colours; hence costing extra.
There is a catalogue of HR-V accessories including side steps, sports packs, floor mats and a rear aero bumper – although no bull bars or nudge bars are on offer in the catalogue.
The HR-V is built in Thailand, like most of the other Hondas sold here in Australia.
–Design; Some say the Honda HR-V isn't as funky to look at as the Toyota C-HR or the Hyundai Kona, but despite the HR-V's conservative styling, the Honda is a smart-looking SUV with its broad bonnet, deep grille, large headlights and sculpted door panels. The HR-V does have a seemingly plain tailgate and rear bumper, some may say.
The Toyota C-HR is the longest of those rivals and while the HR-V looks big in size, the dimensions show it to be 65mm shorter end to end than the C-HR at 4294mm, and 23mm narrower than the Toyota at 1772mm across, but taller at 1605mm; Ground clearance (mm) is 170mm; wheelbase is 2610mm.
Telling the grades of HR-V apart from the exterior is easy if you know what to look for. The base grade VTi does not have roof racks (roof rails) or front fog lights, while the mid-spec VTi-S does not get the top of the range's sunroof, chrome door handles, and dark tinted rear glass.
All grades of the HR-V do get a rear spoiler. 
The HR-V's cabin is familiar to anyone who's sat in any new Honda recently with its irregular shapes and quirky functionality. The dashboard gadgets do look slightly driver-focused; the front passenger gets three air vents.
The top spec VTi-L gets leather seats, the other two variants to choose from have cloth, and shiny black plastic on the centre console.
The interior: dimensions are great; The HR-V might not be as good looking as the Toyota C-HR, Hyundai Kona and the Mazda CX-3, but some reviews say the HR-V is more practical than any of them. Due to the clever design, use of space and the Honda-named Magic-Seats, legroom in the back row is said to be excellent for this class segment and HR-V' s back row has more leg room and more space than the CX-3, C-HR, ASX and Kona.
Magic Seats is Honda's term for the versatile seating in the second row. The seat bases can fold up vertically, like at the cinema, and that lets you carry taller objects.
Headroom is good, but not as good in the back seats of the top spec VTi-L because of its sunroof, which does in turn lower the interior's roof height.
The boot dimensions are impressive at 437 litres, to compare the C-HR's is 377L, the ASX has 393L, the CX-3's has 264L and the Kona has 361L.
Engine specs ; All HR-Vs have a 105kW/172Nm 1.8-litre four-cylinder engine with a CVT automatic transmission. It's definitely not Melbourne's most powerful engine and the CVT transmissions have been known for their lack of responsiveness at times; the performance of the HR-V is said to be more than adequate for city and Ballarat Road onto Western Highway for anyone driving the commute to Ballarat regularly.
Fuel consumption; All grades have the same engine and transmission but they use different amounts of fuel because of their varied weight and different wheel/tyre packages.
Honda says the base grade VTi will use 6.6L/100km and both the VTi-S and VTi-L (both on 17-inch alloys, and both 30kg heavier than the base model) will get a 6.9L/100km mileage reportedly after a combination of country driving and metropolitan roads.
All current HR-V variants are petrol – no diesel on offer here yet;  HR-V variants do not have a turbo motor – no LPG on offer across the variants either. The fuel tank holds 50 litres of unleaded fuel.
Safety; All HR-V variants have the maximum five-star ANCAP rating, but the advanced safety equipment is only standard on the VTi-S and VTi-L.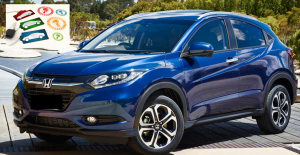 The VTi-S comes standard with AEB, while only on the VTi-L can you option the Advanced Driver Assist System (ADAS) pack that adds Forward Collision Warning, Lane Departure Warning and adaptive high beams. Lane-keeping assistance (or lane assist) currently isn't available on any model.
You'll find two ISOFIX points and three top-tether points across the rear row for baby seats. It has six airbags. Other segment competitors offer a blind-spot monitor system, but Honda doesn't, though it is rumoured a lot of extra safety standard kit may be coming standard with the next HR-V model update.
The HR-V is covered by Honda's five-year/unlimited-kilometre warranty.
Servicing is recommended every 12 months or 10,000km. 
A capped-price servicing program means owners of the HR-V can expect to pay $284 for the first visit, $298 for the second and $298 all the way up to the 100,000km service.
Honda sometimes offers for a limited time *7 year warranty on the HR-V range
 (*see the Honda website for details)
If you would like DABAS's help buying yourself a brand-new Honda HR-V please click here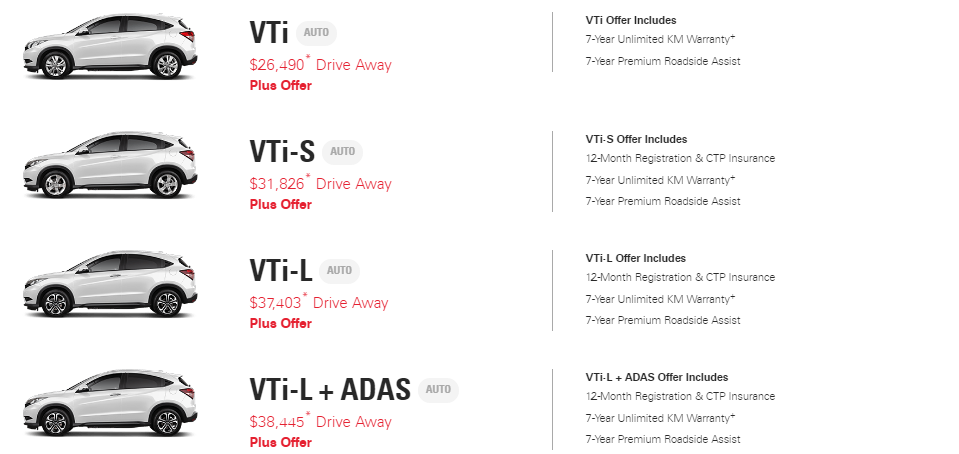 To see the special drive-away deals Honda Australia is currently offering on the Honda HR-V please see the Honda Australian website or contact DABAS for a personal meeting at a HONDA dealership.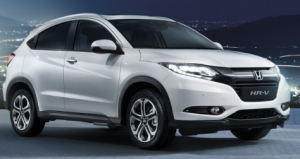 At DABAS we know that buying a car to suit your needs can be one of the biggest purchases in your life;
We hope this intended to be general -in-nature advice and Blog page has provided some helpful information to assist you deciding the path of your car-buying journey.
We look forward to having a chat when the need arises for you to update your car; to assess your personal car-safety requirements and buying needs to suit your lifestyle,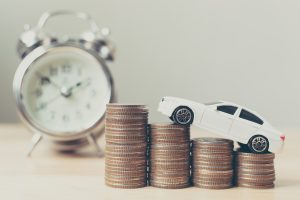 And importantly your set specified budget!
Whatever roads your life journey takes you on DABAS can help you find a car to travel those roads.
To contact DABAS to discuss your car-buying needs . . .  please click here
Please note: All pricing mentioned in this Blog page would be considered expired or sold out within 12 hours of this Blog-post's publication date: all specifications etc. – mentioned in this blog page will be confirmed together with a Honda sales representative in their showroom  upon your transition to becoming a client of DABAS.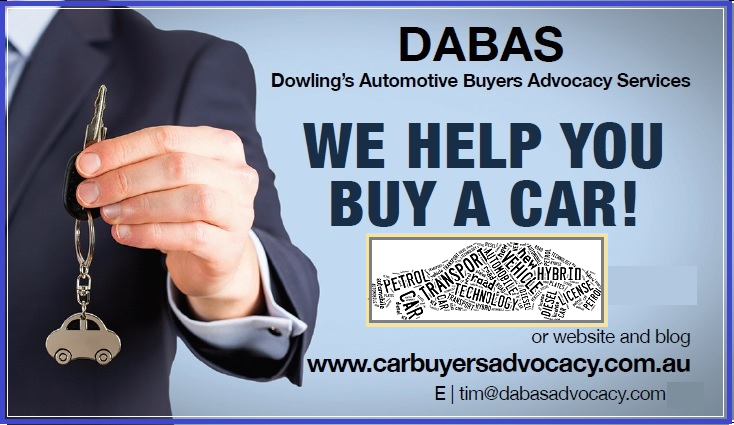 Thanks for visiting DABAS's website and blog: Have a great day
See the DABAS blog index to read DABAS's informative blog page on the 2018 Honda CR-V range . . . or should l say the 2018 Honda HR-V's larger sibling!
To see a self-evaluating check list; is it time to update your car, please click here
To contact DABAS to discuss your car-buying needs, please click here
To see some interesting things to consider when buying a car, please click here
To see 3 things to consider when moving on your old car, please click here
For DABAS past blog topics: see our archived index, please click here
For a step-by-step example of a DABAS car-buying journey, please click here
Thanks for visiting DABAS's website and blog: