DABAS blog post: August 7th, 2018.
Hello readers, with an abundance of MY2018's brand-new cars on the market now including the latest modern safety technology in their product range, it is definitely worth considering these safety inclusions as a deciding factor for comparing and shortlisting potential 2018 brand-new car choices, including what cars have the most safety features bundled in the drive-away price – relevant to the segment's variant model – levels.
Some new-car buyers have expressed confusion at what all the safety acronyms mean: how they work and what do they actually do. With this in mind, following on from an earlier DABAS blog post explaining what autonomous emergency braking (AEB) is, in this week's blog DABAS takes a brief general-in-nature look at Blind Spot Monitoring (BSM) and Rear Cross Traffic Alert (RCTA): what they do and how they generally work. As time goes by, DABAS will often re-visit this safety acronyms topic, thus adding them to our past blog index page, so check back regularly to see even more information on what the modern-day cars' safety alphabet soup means – how it can protect you, your car's precious cargo and the road-using public, including brand comparisons. We hope you find this an interesting read, providing some useful information to help you on your car-buying journey.
If you would like DABAS's assistance buying a car, please click here.
Here we go
Blind Spot Monitoring (BSM)
There is no secret hidden in the name: most blind spot monitoring systems do exactly as the name suggests.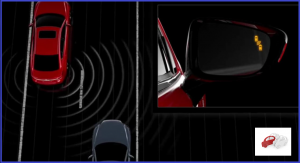 Radar sensors – or cameras – embedded in the car keep close watch to the rear and sides of the vehicle, warning and alerting the vehicle's driver of possible hazards when changing lanes. Most vehicle manufactures names for their BSM systems are fairly concise; some different brands' names for BSM are below,
Blind spot alert – Holden
Blis – Ford
Active safety technology BSM – Mazda
Blind spot warning – Nissan
Active Blind spot detection – BMW
Blind spot detection – Hyundai
Blind spot information system – Volvo
Blind spot monitor – Volkswagen
Side assist – Audi
Lane change assist – Porsche
Lane watch – Honda
. . . just to name a few;
Generally, BSM systems place a warning light near the side mirrors, lighting up in tandem with a bell, buzz or chime, if an object is detected during a lane-change manoeuvre. Some vehicle BSM systems take a different approach, including some like the new Holden Equinox that activates a seat vibration to alert the driver of potential hazards, whilst a video feed from a passenger-side mounted camera is displayed in the central infotainment screen with Honda's Lane watch BSM system, giving undoubtedly more assurance to the Honda's driver.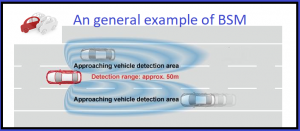 So, in summary, BSM has varying names throughout the new-car market; it keeps an eye on the adjacent lanes, with different vehicle manufactures having varied warnings activated when a vehicle is in your blind spot. Some types will also sound an alarm warning or similar if you try to move into the lane with another vehicle alongside, which can be extremely helpful in Melbourne's peak-hour hustle bustle, and of course helps protect bike riders of all types; motorised or pedal powered riders – including myself – will be extremely appreciative for you having it.
Rear Cross Traffic Alert (RCTA)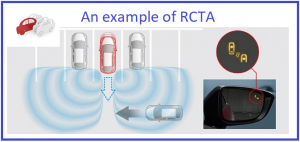 Very similar in nature to blind spot monitoring (BSM), rear cross traffic alert (RCTA) systems mounted generally behind the back-bumper bar look sideways to detect traffic when you are reversing out of a parking space: very handy to avoid your local shopping centre's car-park trolleys and hazards. RCTA often detects objects – like pedestrians and shopping trolleys – that are difficult to see from the comfort of the driver's seat. Some RCTA systems can even apply the brakes to avoid an impact, even when reversing into a car-park. RCTA is now being offered by quite a few vehicles manufacturers and is a potential deciding factor worth strongly considering when finalising your short list of new-car purchasing choices, as reverse automatic braking can not only prevent minor damage to your rear bumper bar, it can also prevent you from backing into people, including young ones playing on your home's front lawn or driveway.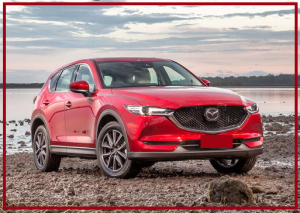 So in summary; Rear cross traffic alert (RCTA) intervenes when you are slowly reversing out of a parking spot or a narrow laneway or street where your vision is obstructed; some systems will simply emit a visual and audible warning, whilst some manufacturers' models RCTA systems will also apply the brakes.
At DABAS we know that buying a car to suit your needs can be one of the biggest purchases in your life; we hope this intended to be "general-in-nature advice" and Blog page has provided some helpful information to assist you in deciding the path of your car-buying journey.
We look forward to having a chat when the need arises for you to update your car; to assess your personal car-safety requirements and buying needs to suit your lifestyle,
 And importantly your set specified budget!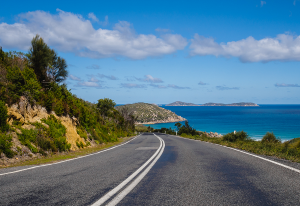 Whatever roads your life journey takes you on, DABAS can help you find a car to travel those roads.
Please note:  All specifications etc. – mentioned in this blog page will be confirmed together with your chosen brand-new car's sales representative, in their showroom upon your transition to becoming a client of DABAS.
DABAS is aware of some things to consider and be aware of – with the levels and differences – in today's brand-new car safety technology and equipment, when considering or comparing against others in the 2018 brand-new car segment; these will be discussed upon your transition to becoming a client of DABAS.
To contact DABAS to discuss your car-buying needs . . .  please click here
To see some more helpful information, go to our blog archives index . . .  please click here
To see a step-by-step example of a DABAS car-buying journey. . .  please click here
Thanks for visiting DABAS's website and blog: Have a great day
Cheers, Tim.