Five popular MY19 hybrid vehicles; DABAS Blog early April 2019:
Hello readers, here in DABAS's hometown of Melbourne, Australia – and around the world – hybrid cars are presently – increasingly – getting new-car buyers' curiosity.  As mentioned with more detail in last month's DABAS blog post on environment-minded cars, they can save you money at your local petrol station and they are much kinder on the environment than the family's Holden VB Commodore from 1979 (or your Ford solar orange XD Falcon, if you're a Ford enthusiast). DABAS has recently had enquiries asking which mainstream popular hybrid vehicles are available in 2019 that don't cost more than a millennial's town-house (deposit) in Napier Street, Fitzroy; and did we have some suggestions?  With that in mind, DABAS would like to bring to readers' attention the many widely accessible popular brands from Toyota to Mitsubishi that now offer petrol-electric hybrid new cars, whilst many "much more expensive" European brands including – now Porsche! – also offer a range of hybrid vehicles. In this blog we will focus on, very briefly, looking at five popular hybrids (not full EV electric) that are – some of the vehicles – available in Melbourne LMCT new car-yards suiting family household budgets' starting price of $24k to $52k. More detailed research information, reviews and brochures on the featured manufacturers' vehicles, including the various models' special pricing offers that DABAS is currently aware of will be provided upon your transition to becoming a DABAS client. (pssst- plus information on the varying hybrid-battery warranty and vehicle warranties, including capped-price servicing costs, regimes, and time- frames). We hope you find this blog post on five popular hybrid cars an interesting read, whilst shining some light on information that may assist you selecting a suitable vehicle for your personal car-buying needs, providing some useful "very general-in-nature" information to help you on your vehicle selection and vehicle-buying journey;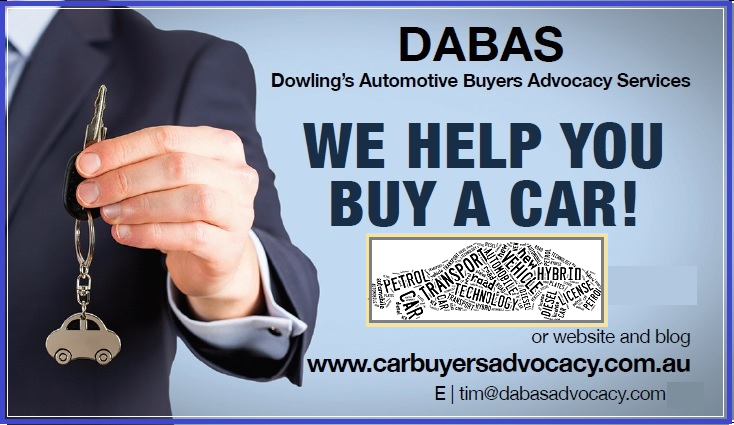 If you would like DABAS's assistance buying a vehicle, please click here.
Here we go, Firstly, you ask? what makes a plug-in hybrid electric vehicle different from other pure electric only vehicles? A pure Electric Vehicle or (EV) sources all its energy from externally generated electricity and is a totally zero CO2 solution if powered by renewable energy sources (click here to see details of the different hybrid technology). Note: pure EVs currently in Australia do have driving-range limitations due to them requiring (the not-yet readily available in Australia) fast-charge infrastructure to achieve the longer distance driving a lot of us do regularly on our commuting travels.
Please find below five of the most popular hybrid cars (from the cheapest to the most expensive of these five) on sale in Melbourne currently that may suit a general family's household budget. And yes – of course – Toyota, due to its long history of hybrid production dominates the selection of suggested vehicles. Globally, the Toyota group has sold more than 10 million hybrid vehicles, of which reportedly 100,000 have been sold in Australia; however in 2019, with many more manufacturers' vehicle production lines around the world rolling out more extensive petrol-electric ranges of their own, the selection of vehicles may look quite different by the time of a 2020 DABAS blog post on the subject.
Choice one, the Toyota Prius C; priced from $23,450 (+ORCs) the MY19 Prius C is the most keenly priced hybrid car on the market at present, If you're keen on putting a hybrid in your driveway but you don't want to blow the budget? – and you'd sooner pay off your university HECS debt – then Toyota's small Yaris-sized Prius C may be your choice. Its entry level is basic, but some say a funky-looking design; it boasts an affordable entry price into the MY19 hybrid marketplace from $23,450 (plus ORCs) and it has a very economical hybrid powertrain that reportedly sips 3.9L/100km of petrol on average. For inner-urban commuting folks, it's got the right size for dealing with the densely packed inner-city Flinders Street and our array of laneway driving, it's also easy to park in Melbourne's urban jungle of tight apartment blocks, or Melbourne QV shopping centre's parking spots. The petrol-electric hybrid powertrain in the Prius C develops maximum power of 74kW from the combination of its 54kW 1.5-litre Atkinson cycle four-cylinder petrol engine and 45kW electric motor. An electronically controlled all-gear continuously variable transmission ensures optimum efficiency, giving the combined-cycle fuel economy of 3.9 litres/100 km and CO2 emissions reportedly of just 90 grams/km. Psst, trivia time! did you know: The Prius C's petrol engine is generally switched off to save fuel when the vehicle is stationary, coasting or braking, and when it is reversing. Prius C's hybrid system prioritises electric power for take-off, low-speed operation and reversing, and combines petrol and electric power for increased performance. The Prius C's hybrid system employs several other technologies to reduce fuel use. The energy from braking and deceleration is converted into electricity and sent to the battery. Electric power runs the water pump and power-steering assist, eliminating drive belts. There are three drive modes in the Prius C; EV mode can allow drivers to operate the Prius C solely on electric power for 1-2km at speeds up to 40km/h. Normal mode is ideal for everyday driving while Eco mode can help achieve the best fuel economy. It reduces energy consumption by governing the throttle and electric air-conditioner.  Other standard Prius C features include seven airbags, vehicle stability and traction control, mechanical and regenerative braking, anti-skid brakes with electronic brake-force distribution, brake assist and an emergency brake signal. High-grade Prius C i-Tech also gains the upgraded satellite-navigation platform and Toyota Link for a price of $26,540.  For more information on the Prius C – if not a client of DABAS – please see the Australian Toyota website.
Choice two, the Toyota Corolla hybrid; priced from: $25,870: As mentioned in a previous DABAS blog post, the all-new Toyota shared-platform 12th-generation Toyota Corolla – launched in Australia recently – brings all the necessary ingredients that have long made it the world's most popular car, but in a very stylishly designed sporty-looking package, that's reportedly much more fun to drive than the previous 11th-generation Corolla. The hybrid has a 1.8-litre, four-cylinder petrol engine with a battery-driven electric motor. When you brake, it reclaims energy that is normally wasted, using it to recharge the battery and hence to propel the car. That makes a big difference to fuel use, and particularly around town where you're braking a lot. Unlike the previous Corolla model, the hybrid option is now available across the entire Corolla range with an entry level price from $25,870 (plus ORCs). The new hatch's Toyota New Global Architecture (TNGA) platform offers: bold, distinctive and sporty design, dynamic performance, premium ride comfort, advanced safety and driver-support systems with reportedly a more rewarding driving experience with its lower centre of gravity, new multi-link rear suspension, 60 per cent more rigid body and improved weight balance. Across the range, driving characteristics also benefit from an active cornering assist system that applies brake force to the left- or right-driven wheels during high-speed cornering to supress understeer. Safety technologies, the MY19 12th-generation Corolla brings fantastic levels of advanced safety technology to the small-car class with the Toyota Safety System helping it gain a five-star ANCAP safety rating. A pre-collision safety system incorporates "pedestrian detection+", including at night, as well as cyclist detection during the day, autonomous emergency braking and emergency brake assist. Active cruise control and lane departure alert with steering assist and sway warning are also standard. On CVT models, active cruise operates at all speeds while the lane departure technology is upgraded to lane trace assist, providing steering assistance to ensure the car stays centred in the lane. Corolla's windscreen-mounted camera recognises speed-limit signs – a first for a Toyota model in Australia. Other standard safety features include automatic high beam, reversing camera, hill-start assist, seven airbags and two rear ISOFIX child safety seat anchor points. SX and ZR also have blind-spot monitor. Across the range, hybrid variants are available for just $1,500 over the equivalent petrol models. Ascent Sport hybrid gains extra equipment over the petrol model with dual-zone climate control and keyless smart entry and start. Reportedly the new petrol engine generates a maximum power of 72kW at 5200rpm and peak torque of 142Nm at 3600rpm while the main electric drive motor produces maximum outputs of 53kW/163Nm. Apparently combined maximum output for the system is 90kW with a combined fuel consumption of 4.2l/100km and CO2 emissions of 97g/km. By offering the advanced 1.8-litre petrol electric drivetrain as a powertrain option on all models, Toyota is furthering its push to ensure its self-sufficient electrified drivetrain technology is a mainstream drivetrain option that is available to a much broader range of clients. To read "even more" about the 12th-generation Corolla model range please click here. Or, for more information on the hybrid Corolla – if not a client of DABAS – please see the Australian Toyota website.
Choice three, the Toyota Camry hybrid: Priced from $31,990: This new MY19 Camry hybrid, which is now fully imported from Japan, takes off where the previous locally Altona-built Camry models left off as Australia's best-selling medium car by a long way. The hybrid Camry is a proven favourite with private buyers, Victorian government and business fleets, with Melbourne's taxi and UBER drivers singing its praises. Toyota's latest generation Camry Ascent hybrid has also been praised for its class-leading efficiency and refinement taking out the title of Best Medium Car under $50,000 in the 2018 Australia's Best Cars (ABC) awards. The annual ABC awards are presented by judges from many of Australia's motoring organisations including the RACV. There's not much on this new Camry that's carried over from the old Altona factory-built model. It sits on a version of the TNGA modular architecture similar to that found underpinning the Toyota C-HR and Prius, as well as the new Corolla mentioned above.
Reportedly as a result of this new stiffer platform, the MY19 Camry is far happier chewing through corners than the previous model, apparently enhanced by the lower seating position. Some say the MY19 Camry hybrid is very quiet to drive. The MY19 hybrid Camry is very popular with non-SUV-driving young families and the Victorian government (including Vic Police) and corporate fleets, as it has lots of space inside, for all manner of business. A big attraction also is that the MY19 Camry has class-leading combined fuel consumption of just 4.5-litres/100km, plus consumers get a lot of value for the entry level price of $31,990 (plus ORCs). The MY19 hybrid Camry also has many great safety features with plenty of driver comforts, including driver and passenger space, and of course the fuel-cost saving benefit of proven hybrid power (as attested to by many of Melbourne and Australia's Taxi fleets). For more information on the Hybrid Camry – if not a client of DABAS – please see the Australian Toyota website.
Choice four, the Toyota Prius; priced from $36,590 plus ORCs: The MY19 Toyota Prius has updated style; Toyota has refreshed its pioneering Prius with a new sense of style and more advanced technology. With cleaner and more engaging lines, the Toyota hybrid five-door hatch features new front and rear treatments and sharper, sleeker headlights and rear combination lights.  It has distinctive styling with sharp angles and a futuristic sleek silhouette with the restyled front and rear adding length to its dynamic design. Technology updates include a new multimedia system offering enhanced functionality, a comprehensive safety package includes auto braking as standard across the range, and this MY19 Prius reportedly feels much better to drive than the previous version. And, of course, it also cuts fuel bills almost in half – compared with many other small MY19 cars. It does this with Toyota's hybrid technology that teams a petrol engine with an electric motor as mentioned previously. The updated Prius hatch is also available in two new exterior metallic paint finishes, Feverish Red and Blue Gem. Complementing the exterior refresh, inside the Prius the interior of the upgraded Prius features new black cloth upholstery while the i-Tech variant has premium leather-accented seats; the Prius cabin incorporates design tweaks to improve ergonomics like a redesign of the centre console that incorporates two cupholders, seat heating switches and a wireless phone charger further enhancing the interior style. The substantially upgraded multimedia system has advanced functionality that helps drivers stay connected whilst on the road. Since Toyota launched the original Prius in Australia in late 2001, the generations of this innovative fuel-efficient small car have been bought by over 20,000 customers who have valued its optimal balance of performance and fuel efficiency, refinement, and practical five-door hatch design. Its continuing proven strength in the marketplace is due to the benefits of the Toyota Hybrid System that Toyota has also rolled out across (as mentioned above) stablemates including the Camry and Corolla hatch. Toyota will later this year also offer their hybrid technology in the RAV4 and the Corolla sedan models as well.  This current generation (updated to MY19) of Prius was launched in early 2016 and was the first model in the Toyota range to feature the Toyota New Generation Architecture (TNGA) platform reportedly delivering agile and responsive driving dynamics and superb ride comfort. The new TNGA platform complements the latest generation petrol-electric hybrid drivetrain which combines a 1.8-litre Atkinson cycle petrol engine with two motor generators to provide the optimum balance of performance and fuel efficiency depending on your driving behaviour and road conditions. The MY19 Prius also comes with lots of advanced safety technology within its Toyota Safety Sense suite of features that includes active cruise control, pre-collision safety system, lane departure alert with steering assist and auto high beam, together with reversing camera and seven airbags. Both the MY19 Prius and flagship premium-grade Prius i-Tech models feature refreshed 15-inch and 17-inch alloy wheels. The Prius uses a 15-inch aluminium wheel with a redesigned 10-spoke aerodynamic silver cover while the Prius i-Tech features 17-inch five-spoke alloys in a new black and titanium-look paint finish. Toyota prius pricing starts with the Prius at $36,590 +ORCs and the higher spec Prius i-Tech is $44,050 +ORCs; For more information on the Prius – if not a client of DABAS – please see the Australian Toyota website.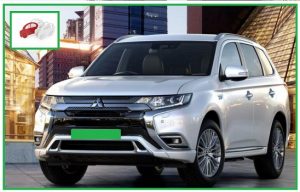 Choice five, the Mitsubishi Outlander PHEV; priced from: $50,490 (+ORCs), Mitsubishi hybrid electric vehicles (HEV) have been in the Australian marketplace for roughly 12 years and combine a conventional internal combustion engine with an electric motor to provide motive power. Essentially, the electricity for the EV motor is provided by an internal combustion engine. The Plug-in side of the Outlander 'PHEV' takes this one step further and allows for electricity from the grid to be stored in the drive battery whilst also allowing for the batteries to be charged by the vehicles internal combustion engine to achieve an even greater driving range. Mitsubishi was one of the first to bring a plug-in hybrid to Melbourne (Australia) with its Outlander PHEV, and it remains the only real mainstream option in the SUV class to boast a plug-in charging capability. For those who have a family to tote but who also want to insulate themselves from rising petrol costs, it may be the answer you're looking for.
The new MY19 Outlander PHEV (Plug-in Hybrid Electric Vehicle) is a ground-breaking vehicle that brings together the superior environmental performance and quietness of an electric vehicle (EV), the stability and handling of an AWD and the everyday practicalities and safety of an SUV. The Outlander PHEV is environmentally intelligent family transport and it represents the next generation of Mitsubishi hybrid and electric vehicles. The Outlander PHEV is a hybrid technologically advanced vehicle, using either electric motor/s or an internal combustion engine to power the wheels. The petrol engine can also provide additional power to the electric motor when extra acceleration is needed like when tackling steep hills.
The electric motors can be charged by plugging the vehicle into mains electricity and on a full charge – reportedly – the Outlander PHEV can travel up to 54 kilometres in pure Electric Vehicle (EV) mode. Once the battery power has been used the petrol engine takes over, so there is no need for the driver to be concerned about how much charge is left in the battery. With a complete charge of the Outlander PHEV reportedly just taking just 9.8KWh of electricity and giving an EV range of up to 54 kilometres, the Outlander PHEV can run on its EV battery for a fraction of the cost of conventional petrol or diesel. The Outlander PHEV plug-in hybrid SUV lets you go beyond the boundaries of ordinary driving, with twin electric motors and a highly efficient petrol engine optimising performance according to your personal driving style. Separately mounted motors at the front and rear axles reportedly deliver incredible responsive AWD performance with S-AWC (super all wheel control) ensuring excellent driving and handling. It is said to be smooth, quiet, comfort with abundant power to tackle off-road terrain. Yes, the twin-motor AWD system and Mitsubishi's proven super all-wheel control (S-AWC) system provide the vehicle with great off-road ability. The power delivered from the electric motor and internal combustion engine can deliver 200bhp to the wheels. It also features the "4WD Lock" mode to fix the front and rear motor power at an even 50/50 split. The Outlander PHEV switches seamlessly between three drive modes to get the most efficient performance from its twin electric motors and highly efficient petrol engine. This innovative technology offers incredible efficiency and reportedly a smooth, quiet ride without compromising comfort, size, performance or convenience. Interior: The Outlander PHEV has a roomy interior giving you plenty of space for any trip, near or far. The Outlander PHEV's battery is stored under the floor to maximise interior space and lower the centre of gravity for better safety and handling. The seats can also be folded down to make extra room for whatever you need to carry. While storage space beneath the cargo area floor is ideal for conveniently storing the charging cable. And for those with busy hands, the Outlander PHEV Exceeds power tailgate conveniently opens and closes with the touch of the smart key. Q) And the question on the football team coach's mind, why doesn't the Mitsubishi Outlander PHEV offer 7 seats like the other Outlander models?  A) The Outlander's PHEV system components such as the on-board charger (OBC) and rear motor control unit (RMCU) are located under the rear cargo floor where the third-row seats would be fixed and fold flat. Safety: Mitsubishi Motors Intuitive Technology, or MiTEC, is an integrated system of innovations in action, working in unison to guide and protect, alert and connect, even entertain thus delivering safety and features to the driver and passengers. Some of the MiTEC safety technology available in the Outlander PHEV variants ES ADAS and EXCEED models: Multi Around Monitor, Rear Cross-Traffic Alert (RCTA), Lane Departure Warning (LDW), Forward Collision Mitigation (FCM), Blind-Spot Warning (BSW), Lane Change Assist (LCA), Ultrasonic misacceleration Mitigation System (UMS), Hill-Start Assist, Adaptive Cruise Control (ACC), Automatic High Beam.
The OUTLANDER PHEV ES gets- twin electric motors and 2.0L MIVEC petrol engine, Super All-Wheel Control AWD (S-AWD), Smartphone Link Display Audio (SDA), Climate-control dual-zone air conditioning, Reversing camera and sensors, Smart Key and One-Touch Start System and Hill-Start Assist.
The OUTLANDER PHEV ES ADAS adds- Lane Departure Warning (LDW), Forward Collision Mitigation (FCM), Adaptive Cruise Control (ACC), Automatic High Beam (AHB),
The OUTLANDER PHEV EXCEED adds- EV Remote Smartphone App, Leather seat-facing plus electric sunroof and tailgate, Ultrasonic misacceleration Mitigation System (UMS), Blind-Spot Warning (BSW), Lane Change Assist (LCA), Rear Cross-Traffic Alert (RCTA), Multi Around Monitor. For even more information on the Outlander PHEV – if not a client of DABAS – please see the Australian Mitsubishi website.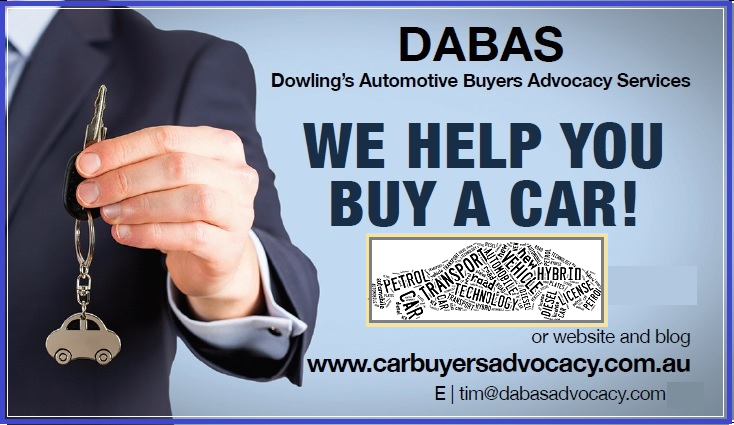 At DABAS we know that buying a car to suit your needs can be one of the biggest purchases in your life; we hope this intended to be "general-in-nature advice and information" blog page has provided some helpful assistance for you in deciding the path of your car-buying journey. Please note examples, options, pricing and information mentioned in this blog post are to be considered as a very general-in-nature summary; all specifications, information and advice mentioned in this blog page may be outdated or superseded by the time of your reading of this blog page;  information in all DABAS blog pages will be confirmed at the time of you updating into your next vehicle, along with your chosen vehicle's sales representative in their LMCT showroom at the time you transition to becoming a client of DABAS. We look forward to having a chat when the need arises for you to update your car; to assess your personal car-safety requirements and buying needs to suit your lifestyle. And importantly your set specified budget!
Whatever roads your life journey takes you on, DABAS can help you find a car to travel those roads.
When it comes time to update your car DABAS is aware of some things to consider within these featured model ranges, plus more of the opposition comparisons, and also things to keep in mind – including when you are trading in your old car at a LMCT used-car yard – and the special trade-in incentives offered on drive-away-no-more-to-pay deals obtainable – at times – within leading brands' Melbourne LMCT new-car dealerships.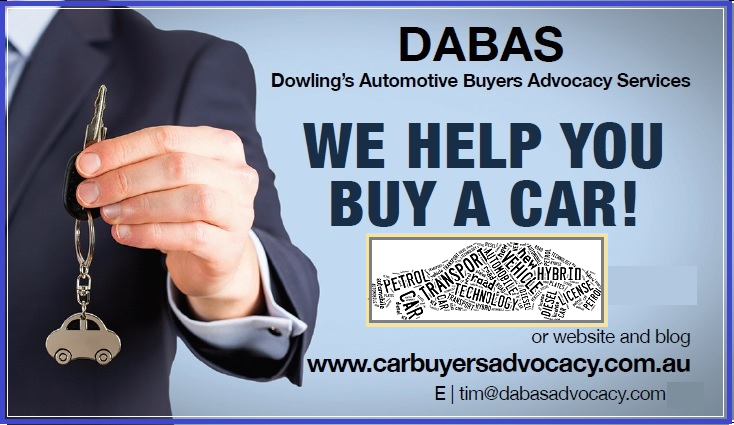 These will be discussed upon your transition to becoming a client of DABAS.
To contact DABAS to discuss your car-buying needs:  please click here
For more information on environmentally minded cars:  please click here
To see a self-evaluating check list – is it time to update your car: please click here
To see some interesting things to consider when buying a car:  please click here
To see 3 things to consider when moving on from your old car:  please click here
For a DABAS blog on comparing vehicle manufacturers' warranty periods: please click here
If you would like to go to the car-auctions as an alternative car-buying option: please click here
For "many more" DABAS past blog topics: see our archived index here
For a step-by-step example of a DABAS car-buying journey: please click here
Thanks for visiting DABAS's website and blog: Have a great day, Cheers, Tim.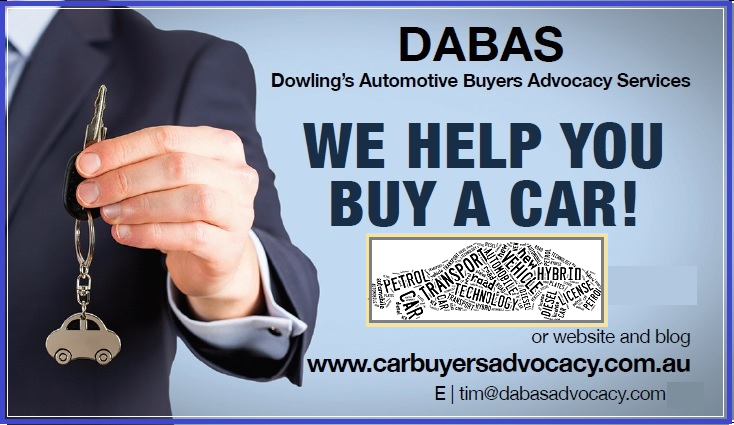 Please note; information mentioned on this page is to be considered as a general-in-nature summary; all information and advice mentioned may be outdated or superseded by the time of your reading of this page; all information will be confirmed at the time of your transition to becoming a client of DABAS.