Dabas blog post, late April 2019: 3 things to consider when buying a used hybrid vehicle.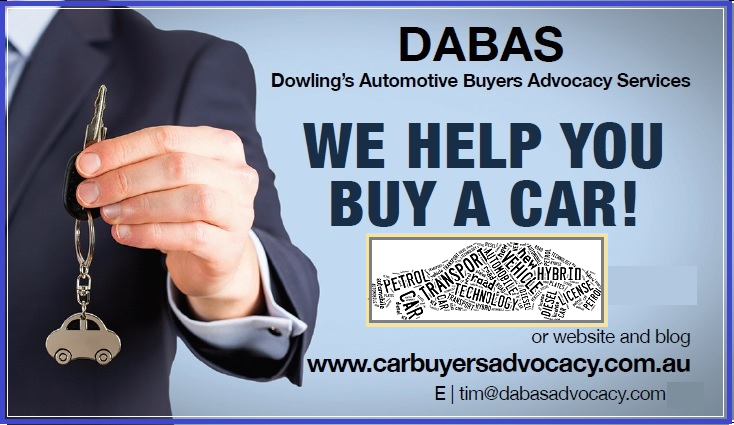 Hello, "Happy Easter 2019 holiday weekend!"- from DABAS – to all blog readers,
As mentioned in the previous two DABAS blog posts, hybrid vehicles can be one of the more environmentally efficient ways to drive a bit greener – (including over this 2019 Easter Holiday long weekend: for Easter travel tips please click here) – they offer smaller fuel-consumption figures and a much cleaner carbon footprint than a fully loaded fossil-fuel-powered car like that Linamint – in colour – Holden Torana GTR-XU1 from 1971. In more recent years, up until 2019 – continuing to now – hybrid vehicles have enjoyed ever-increasing popularity, which now means many hybrid-powered vehicles are hitting the used-car market at reasonable prices. As hybrid electric vehicles have now been around in Melbourne, Australia, for roughly two decades there is, hence, a growing used-hybrid car market with cars that have been traded in, or in some cases, the past owners have wanted to change to the latest MY19 model hybrid SUV and safety technologies available to suit their growing family. DABAS is of course aware that not every household budget allows for a brand-new MY19 model hybrid vehicle, and a used pre-loved hybrid vehicle may be a more suitable purchase option. With that in mind – in this DABAS blog post – let's have a brief generalised look at some things to consider and keep in mind when buying a used hybrid vehicle: more detailed research information, reviews and brochures – plus any special pricing offers that DABAS is currently aware of on a (new or used) hybrid vehicle – will be provided upon your transition to becoming a DABAS client.
We hope you find this blog post on 3 things to consider when buying a used hybrid car an interesting read, whilst shining some light on information that may assist you selecting a suitable vehicle for your personal car-buying needs, providing some useful "very general-in-nature" information to help you on your vehicle selection and vehicle-buying journey;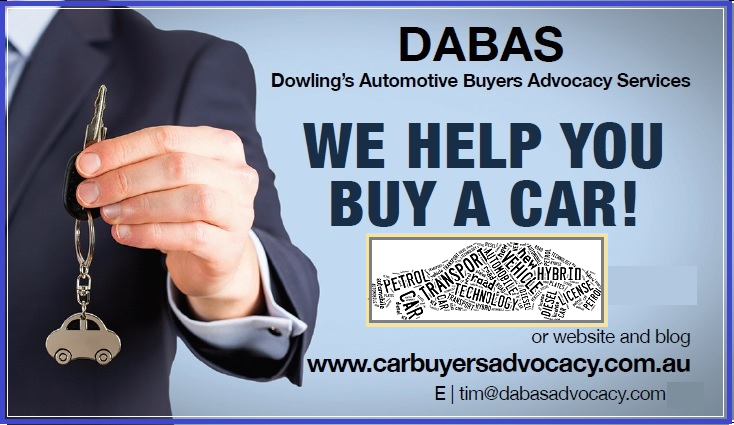 If you would like DABAS's assistance buying a vehicle, please click here.
Here we go, so, what are some of the many thing you should look for in a used hybrid vehicle?
Well to begin with of course, all the same research, due-diligence checks and balances do apply to buying a used hybrid car as a fully fossil-fuel-powered used car: as mentioned in previous DABAS linked blogs, service books and history, trading-in, buying a used car, updating, safety technology budget are of course some of the many things to consider,  please also see our blog index for even more tips.
To assist even further, here are three additional things to think of when buying a used hybrid that may be worth keeping in mind.
.1) THE BATTERY: Remember, a hybrid car is running two powertrains: one run by a battery, the other by a regular combustion engine. Often the battery powers the car at low speeds and other times when the car would inefficiently use fuel in the engine. Most hybrid cars come with a separate warranty for the battery, so it's important to check if this warranty's timeframe is current and is still valid along with the condition of the battery itself. Don't forget: all batteries do lose charge over time, even the large, rechargeable versions you'll find under the boot, bonnet or back-seat areas of various hybrid vehicles, so eventually they must be replaced at some point during the car's lifetime. Generally, most hybrid batteries are guaranteed to last for the better part of a decade. As a lot of brand-new hybrid car owners replace their car after around three to five years, the first owner of a brand-new hybrid vehicle, generally, wouldn't have had to worry about anything to do with battery maintenance or troubles, but if you're buying an older hybrid car, particularly one that is starting to climb towards double digits in age, you might be stuck with the cost of replacing a –  potentially expensive – battery. Did you know? Hybrid cars can run with a less than fully charged battery, relying on the fossil-fuel combustion engine – but if it has lost the ability to re-charge fully, you'll lose the benefit of efficiency, because the combustion engine will probably be working harder to power the whole car. Once your hybrid battery has died, though, some cars will shut down completely until it's replaced. Others may be able to run on the 'normal' engine, though it's probably not recommended for the extra stress it places on the components of the powertrain.
.2) RESALE VALUE AND DEALER SUPPORT: Yes, depreciation affects all cars, even used-cars; but it hits new and used vehicles particularly hard if they're not supported in the marketplace (either through small sales or lack of dealer service and support). Most of the popular common hybrid vehicles sold in Melbourne, Australia, have been around long enough that there is a decent support network for whichever brand you choose. As an example, the original Toyota Prius was introduced in Australia many years ago now, and there are healthy amounts of used car stock including service support and parts for the lift-back model, as well as the expanded range including the Prius C and Prius V. The Hybrid Camry, Toyota's first mainstream hybrid offering, was popular when it was introduced for the 2010 model year and thus it has a large amount of dealer support for parts shared with its fuel-powered Toyota stablemates. Similarly, Mitsubishi's Outlander PHEV has been around for a few years now, and taps into the current popularity of SUVs, with the bonus of you being able to recharge it at home. The popularity of the Mitsubishi Outlander means that there are parts and Mitsubishi-trained service technicians who can help in case of a breakdown.  As mentioned in past blogs, there is now also a new market emerging for fuel-efficient hybrid cars due to the rise in popularity of ride-sharing services such as Uber, as well as taxis and business fleets (including when brand new, our state's Vic-Fleet) all wanting to minimise running costs. This is creating a greater demand for used hybrid vehicles and ensuring that owners who care for their vehicle should continue to experience strong consistent resale values for a pre-loved low-kilometre hybrid vehicle into the future. MY19 carmakers are committed to hybrid technology, with one of the world's most popular car, the MY19 Toyota Corolla now also available with a hybrid powertrain throughout the entire (automatic) range.
.3) LIVEABILITY: Did you know a pre-loved hybrid car – with a good battery and valid service history – generally has similar running costs to a pre-loved fuel-powered vehicle, with the obvious saving at the shop-a-docket petrol pump? Registration costs can also be lower for hybrid cars, with some governments rewarding owners for choosing a vehicle that doesn't contribute to emissions and pollution as much as a car that burns only fossil fuel.
Getting into a hybrid for the first time is a new driving experience for us all, (Psst, don't get me started talking about the first time l drove a Prius at Melbourne's biggest car-auction house: my previous employer many years ago). They're fundamentally different from a regular fuel-powered vehicle in the way they deliver power. Where you usually have to wait a few seconds in your 1971 Holden LC GTR-XU1 Torana for fuel to be burnt via the triple 150c'd Stromberg carburettors in the combustion engine to deliver power, a hybrid vehicle uses the electricity stored in the battery to accelerate immediately, meaning that you need to re-evaluate how you drive, especially at low speeds, in and around Melbourne's many current ongoing roadworks, also in places like shopping centre car-parks, seemingly the most common source of dings, dents and scratches on a shiny new or used-cars paintwork.
Psst, a quick note for the car enthusiast, the bigger fuel consumption 175cd Stromberg carburettors were found under the bonnet in the next model Holden LJ Torana GTR-XU1 in 1972,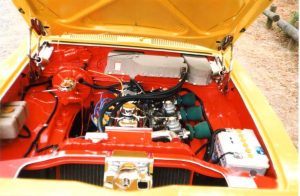 The 1971 Holden Torana LC GTR-XU1 model from the factory only had the triple 150c'd Stromberg carburettors under its shiny bonnet.
( As pictured above, modified with trumpets and "finer filter -foam sock- air-filters" adapted)
SERVICING costs of a pre-loved mainstream hybrid vehicle are commonly in line with fuel-powered cars, with no massive differences in parts' inventories between pre-loved models that have a fuel-powered equivalent sibling variant (e.g. Toyota Camry and Camry Hybrid).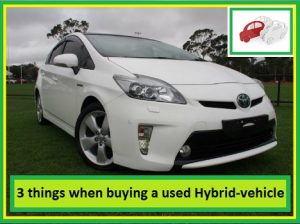 At DABAS we know that buying a car to suit your needs can be one of the biggest purchases in your life; If you do want to buy a brand-new, near-new or pre-owned hybrid vehicle, DABAS can help you find a brand-new or pre-loved hybrid vehicle that is good value whilst being kinder to the environment, but can also cut down your household's commuting costs. We hope this intended to be "general-in-nature advice and information" blogpage has provided some helpful assistance for you in deciding the path of your car-buying journey. Please note any examples, options, pricing and information mentioned in this blog post are to be considered as a very general-in-nature summary; all specifications, information and advice mentioned in this blog page may be outdated or superseded by the time of your reading of this blog page;  information in all DABAS blog pageswill be confirmed at the time of you updating into your next vehicle, along with your chosen vehicle's sales representative in their LMCT showroom at the time you transition to becoming a client of DABAS.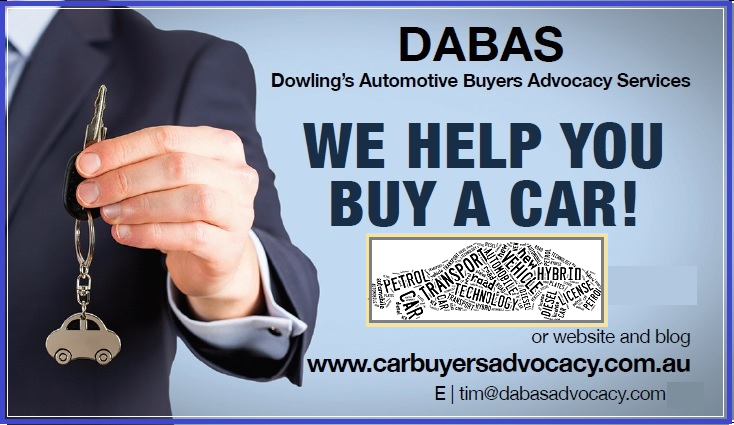 We look forward to having a chat when the need arises for you to update your car; to assess your personal car-safety requirements and buying needs to suit your lifestyle. And importantly your set specified budget!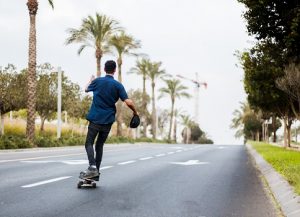 Whatever roads your life journey takes you on, DABAS can help you find a car to travel those roads.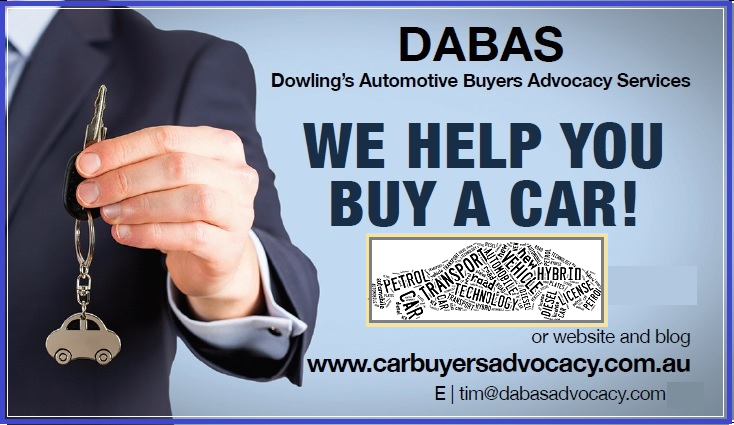 When it comes time to update your car DABAS is aware of some things to consider within these featured model ranges, plus more of the opposition comparisons, and also things to keep in mind – including when you are trading in your old car at a LMCT used-car yard – and the special trade-in incentives offered on drive-away-no-more-to-pay deals obtainable – at times – within leading brands' Melbourne LMCT new-car dealerships.
These will be discussed upon your transition to becoming a client of DABAS.
To contact DABAS to discuss your car-buying needs:  please click here
For more information on environmentally minded cars:  please click here
To see a self-evaluating check list – is it time to update your car: please click here
To see some interesting things to consider when buying a car:  please click here
To see 3 things to consider when moving on from your old car:  please click here
For a DABAS blog on comparing vehicle manufacturers' warranty periods: please click here
If you would like to go to the car auctions as an alternative car-buying option: please click here
For "many more" DABAS past blog topics: see our archived index here
For a step-by-step example of a DABAS car-buying journey: please click here
Thanks for visiting DABAS's website and blog
Have a great day, Cheers, Tim.
Please note; information mentioned on this page is to be considered as a general-in-nature summary; all information and advice mentioned may be outdated or superseded by the time of your reading of this page; all information will be confirmed at the time of your transition to becoming a client of DABAS.