DABAS Blog June 2019: Ten popular "privately funded" MY19 vehicles.
Hello readers, hoping your vehicle's heater is working well now that Melbourne winter's 2019 season is officially here, as this coming week's temperatures are predicted to be the coldest – so far – in 2019. As mentioned in last month's blog post, dual-cab utilities and SUVs get fantastic results in the "overall" Australian sales figures each month, but did you realise that reportedly the most popular new car for Australian families buying a car with their own money – for their own private use – is a hatchback? Toyota's HiLux normally rides high on the overall sales charts, having been beaten only twice in "overall" monthly sales tallies in the past two years, with other brands' dual-cab utilities also rating at the top of yearly "overall sales results".  But do note – as previously mentioned in last month's DABAS blogpost – if you subtract corporate fleets, government, local council works departments, parks-au fleets, mining industry vehicles and rental cars, this reveals the Mazda3  as gaining the gold-medal podium position, thus truly representing the actual car of choice for Australian motorists spending their own personal money. Reported motoring industry figures reveal the Mazda3 is the top choice for private buyers, followed closely by the Japanese brand's CX-5 crossover. This shouldn't come as a surprise, as Mazda follows a different road from many of its rivals by pursuing private buyers at the expense of large government and rental fleet sales. Subaru and Honda take a similar approach, avoiding cut-throat discounting while thus protecting resale values: as at times the brands that flood the used market with fleet vehicles often also have inferior resale values due to the high number of that model listed in the used-car sales classifieds.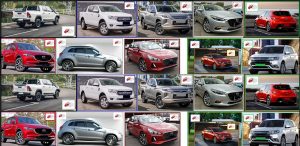 Some popular brands bring a balance of private and fleet appeal like the Toyota Corolla and RAV4, which both represent a good split between private and fleet use. Other brands, such as Honda's CR-V and Subaru's XV, generally report three-quarters of sales from private buyers. But there is more to the information than meets the eye. Hyundai reportedly says that almost 70 per cent of i30 owners are private customers, while industry figures apparently put the model's share closer to half that. A general indicator of popular passenger-car segment fleet sales may be to look at the rental fleets at Melbourne's Tullamarine airport's carpark rental area. Variations can also occur due to how "private buyer" figures are calculated: some will be cars with no commercial links, while others will be family runabouts with ties to small business. The Ford Ranger, which finished second in overall total Australian sales results to the HiLux last year, in private buyers' reality drops well down the list of private sales orders, reportedly slipping behind the likes of Hyundai's Tucson and the Subaru XV to sit just inside the top 20 for private buyers. Of course, that may not be a truly accurate reflection of the vehicle's popularity, as reportedly many sole traders and small businesses take advantage of ATO government tax breaks for commercial vehicles and register the family Ranger as a company asset after advice from their accountants and business advisors; (Nissan's Navara and the Holden Colorado are well down the order for similar reasons).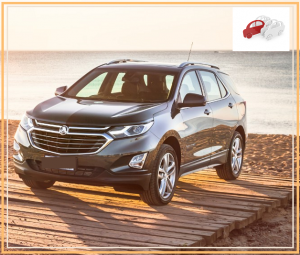 Holden enthusiasts of the once-dominant Aussie brand will be disappointed – whilst shedding a tear into their Brock Bathurst memorabilia HDT GTR-XU1 Torana stubby holder- to see no Holden models in the top 25-selling models for private sales, yet Subaru Australia can claim three on the top 25 list: the XV, Forester and Outback. So, with that in mind – in this DABAS blog post let's have a "very brief" look at reportedly the most popular cars among private buyers in Australia, which may help in your search for a brand-new MY19 vehicle: much more detailed research information, reviews and brochures – plus any special EOFY pricing offers that DABAS is currently aware of on brand-new MY19 vehicles – will be provided upon your transition to becoming a DABAS client.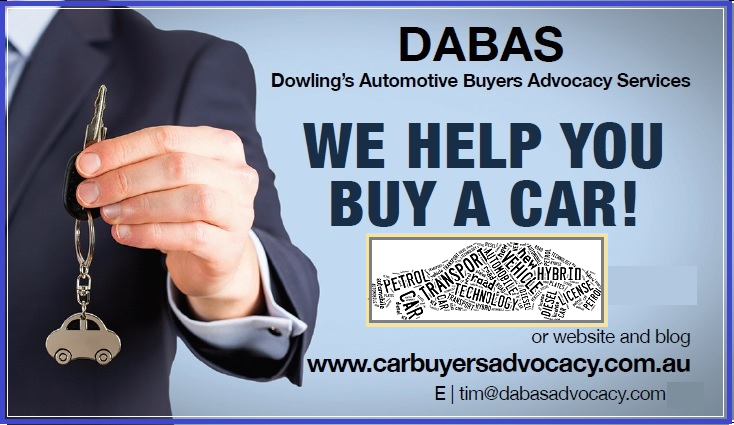 As with any big decision, it's best to do research before stepping a toe into a LMCT dealership; DABAS can assist by doing this for you, looking at factors such as fuel economy, safety, technology, servicing schedules and costs, plus added extras that may all help in your final purchase decision, as each vehicle's variant in the model range is usually available with progressing arrays of added inclusions that may suit your personal needs to a tee. Comparing new cars solo by yourself can be very time-consuming, and at times confusing, but with DABAS's assistance the modest service fee charged for our services will have been well worth it when you get behind the wheel of your ideal dream car, knowing the vehicle suits your lifestyle and hip pocket, both now and in the long run!
We hope you find this blog post on – the popular cars among "privately funded" buyers in Australia – an interesting read, whilst shining some light on information that may assist you selecting a suitable vehicle for your personal car-buying needs, providing some useful "very general-in-nature" information to help you on your MY19 vehicle selection;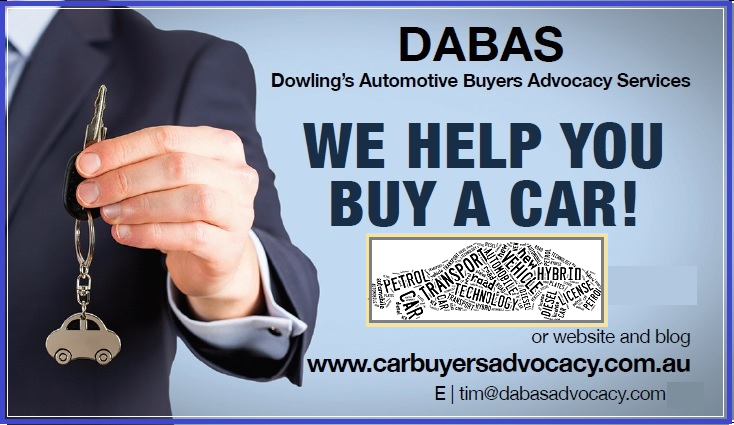 If you would like DABAS's assistance buying a vehicle, please click here.
Here we go,
Mazda3, the car that saw the demise of the Holden's Commodore as Australia's – once upon a time – most popular family car, sold very strongly in 2018 – and earlier this year in 2019 – ahead of the recently launched MY19 Mazda3's new-look models' arrival in dealerships recently. The small hatch's sales success is said to be due to Mazda's strategy of targeting private buyers, putting them ahead of targeting the huge Australian government department car-pools and rental fleet sales. The recently launched new-look design MY19 model goes even further than its predecessor, with safety-tech such as active cruise control, satnav and a head-up display fitted as standard to every grade across the range; psst – note, there are no $20K drive-away deals with this new-look design MY19 model though, as all the new MY19 Mazda3 models' prices have risen compared to an early 2019 pre-update model. To read more about the early MY19 Mazda3 please click here, to read about the all-new generation MY19 Mazda3 please see Mazda's Australian website (or see the car featured in the DABAS blog index).
The Mazda CX-5: Australia's best-selling SUV resonates with Melbourne family buyers.  The CX-5 is loaded with modern safety technology, it's got practical family access with good ride height; looks – and is – stylish; is polished to drive and buyers love the colour palates available (until the day in the future they get the quote to fix a shopping centre car-park scratch on the sparkling soul-red mica metallic paint). Mazda is a firm believer in giving Australian buyers the power of choice, with five trim lines, four engine options, manual or automatic transmissions and front- or all-wheel drive. Mazda's five-year warranty helps keep Australian buyers happy as well. To read more about the MY19 Mazda CX5 please click here, or please see Mazda's Australian website (or see the car featured in the DABAS blog index).
The Toyota Corolla, one of the most enduringly popular cars around the globe for generations of motorists, strikes a balance between private and company fleet buyers – as demonstrated by a good supply of Corollas at the automotive and Vic-fleet auctions in Altona (Vic) in any given week. The Corolla has a proven reputation for reliability with frugal running and servicing costs, seemingly a car for everyone's A-to-B commuting needs – until your third child arrives. The evergreen Corolla actually – on the overall tally sheet – finished ahead of the Mazda3 in overall sales thanks to the widespread fleet and rental deals mentioned earlier. Its overall sales figures were also enriched by the launch of a new generation MY19 model last year with hybrid powertrains optionally available in all automatic variants and – at the time of launch – class-leading safety technology acronym inclusions across the entire MY19 Corolla range. To read more about the new 12th generation MY19 Toyota Corolla please click here, or please see Toyota's Australian website (or see the car featured in the DABAS blog index).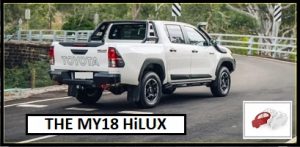 The Toyota Hilux is a staple feature in carparks of local councils and government works department depots as well as rural and mining fleets and roadwork gangs around this vast country of Australia, also being one of a tradesperson's favourite rides and weekend bush-getaway machines: hence its large overall sales tally in 2018 and 2019. Available in a large range of variants with many varied driveline and cab/body options, including 4×4 layouts. Australia's "overall sales" outright bestseller in 2018 rose through the private-buyer ranks as well, with the help of premium grades such as the Rogue and Rugged-X, with its tougher looks and off-road parts often sought by buyers of pick-ups. Toyota's new five-year warranty introduced in January of this year (2019) – extended from the previous three-year time period – should make Hilux's appearance again on the 2019 overall and private sales podium a surely safe bet. To read more about the MY19 Toyota Hilux please click here, or please see Toyota's Australian website (or see the car featured in the DABAS blog index).
The Mitsubishi Triton comes in many variants to suit your work-life balance, from cab-chassis to dual-cab 4×4 with varying drivelines options. The Triton has long been a favourite among people spending their own hard-earned money and looking at value-for-money pricing and drive-away deals. The Triton has proven reliability on the worksites; it has also been helped by the fantastic value-packed run-out deals on offer from Mitsubishi in the latter half of last year, and then continuing with the arrival of the new look MY19 model plus run-out sales of MY18 stock. The Triton gives buyers plenty of value for far fewer dollars than an equivalently equipped Toyota Hilux. On balance, it's a great choice and a value-for-money pick of the current crop of popular dual-cabs. To read more about the MY19 Mitsubishi Triton please click here, or please see the Mitsubishi Australian website.
The Mazda Cx-3: small SUVs are mostly all about private buyers. They are a very popular choice with the young urban demographic and retirees alike, not only for their good looks but also because they sit higher off the ground, thus generally giving better vehicle occupant access for those with hip and joint mobility issues. SUVs like the CX3 also have an added benefit of improved road and traffic vision for the driver and passengers compared to a conventional hatchback or sedan. The Mazda CX3 is more expensive than its stablemate, the Mazda2: let's have a reality check — the CX3 is not a whole lot more capable than the Mazda2 hatch on which the CX3's platform is based. Nevertheless, the CX-3 has much of what people want from a compact, small easy-to-drive stylish SUV crossover, hence its continuing popularity amongst private buyers. To read more about the MY19 Mazda CX-3 please click here, or please see Mazda's Australian website.
The Honda CR-V, as featured in a DABAS blog post last year. It is not surprising to see Honda's medium-sized SUV climb from 18th in overall sales to make this top 10 list: it's spacious, without needing a B-double truck park at your local Woolworths, and eminently a practical vehicle with plenty going for it, including the Honda magic seats (folding feature) great for taller varied loads from weekend Bunnings or family camping trips. The Honda CR-V has proven solid reliability reports from around the globe. Honda CR-V owners report a stylish, comfortable commuting ride. Pending your chosen model and variant, optional seven-seat versatility is available. All variants of the Honda CR-V offer strong safety credentials, increasing the safety acronyms as you climb the model's levels and variants; or are packaged inclusions. To read more about the MY19 Honda CR-V please click here, or please see Honda's Australian website (also see the MY18 Honda CR-V featured here).
The Toyota RAV4; some argue that the ongoing compact SUV craze was born when the original RAV4 was launched in 1994, in time becoming a household name in Australia, and beyond. As with its Toyota Corolla and Prado stablemates, RAV4 sales are almost split down the middle between private and corporate buyers, in stark contrast with the likes of Honda and Mazda reportedly counting three-quarters of their sales from everyday private buyers and families. The new-look design was recently launched and the MY19 RAV4 model is sharp-looking and thoroughly impressive. The MY19 RAV4 is also optionally available with a Hybrid technology driveline; the new-look design along with varied driveline options reportedly should ensure a larger slice of the private sales pie by 2020. To read more about the MY19 Toyota RAV4 please click here, or please see Toyota's Australian website.
The VW Golf, in many previous generations' guise, has been on Australian roads for some time. It is an impressively polished performer on the privately funded showroom sales-podium. On the road, the Golf remains a small car benchmark – (just don't mention the diesel-gate emission scandal). Customers can choose from value-packed entry-level drive-away deals, to pseudo-prestige versions and performers such as the Golf GTI and R, which have immense pull for VW enthusiasts. The brand finished strongly in 2018 with a five-year warranty, which became permanent this year in 2019. To read more about the MY19 Volkswagen Golf please see the DABAS blog index or the Volkswagen Australian website.
The Hyundai I30 is maybe taking a page from VW's book; Hyundai took the i30 upstream last year in search of more profitable private customers. Offering a broad range of variants from entry-level $19,990 drive-away deals to the turbo i30 N hot hatch range, which aims for the Golf GTI buyer. The switch from a well-sorted but visually unremarkable i30 SR to a sporty i30 N-Line should end up putting more Hyundai i30s in local boy- and girl-racers' driveways. To read more about the MY19 Hyundai i30 please see the Hyundai Australian website (or see the car featured in the DABAS blog index).
( Number ? in 2020) A free DABAS prediction tip for the 2020 list is The MY19 KIA Cerato: it is available in both smart-looking hatchback and sedan-body styles with segment-leading safety inclusions, even at entry level. Great value drive-away pricing deals are available across all the range of variants, starting from under $20k. Pssst – the KIA Cerato is closely related to the Hyundai i30 range – by family sibling DNA – which leads to a prediction of a 2020 top ten list inclusion. It is also worth noting that this new generation MY19 Cerato has more standard safety inclusions – even from a budget-conscious entry-level price – than some of its segment rivals, including the Hyundai i30. To read many more details about the MY19 KIA Cerato click on your choice of hatchback or sedan body- style links, alternatively please see the KIA Australian website.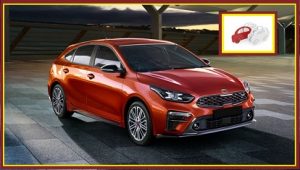 Reportedly the top ten "overall" vehicle sales in 2018 (including government/fleets)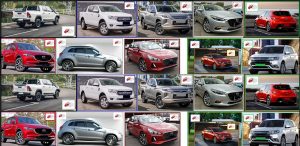 Toyota HiLux had 51,705 sales; Ford Ranger had 42,144 sales; Toyota Corolla had 35,320 sales; Mazda3 had 31,065 sales; Hyundai i30 had 28,188 sales; Mazda CX-5 had 26,173 sales; Mitsubishi Triton had 24,896 sales; Toyota RAV4 had 22,165 sales; Nissan X-Trail had 21,192 sales; Hyundai Tucson had 19,261 sales.
In order, the reportedly top 10 privately funded sales in 2018 (excluding government/fleets)
The Mazda3 was in first place, the Mazda CX-5 second place, the Toyota Corolla third place, the Toyota HiLux fourth place,  The Mitsubishi Triton fifth place, the Mazda CX-3 sixth place, the Honda CR-V seventh place, the Toyota RAV4 eighth place, the VW Golf ninth place, the Hyundai i30 tenth place,
At DABAS we know that buying a car to suit your needs can be one of the biggest purchases in your life. We hope this intended to be "general-in-nature advice and information" blog page has provided some helpful assistance for you in deciding the path of your car-buying journey. Please note any examples, options, pricing and information mentioned in this blog post are to be considered as a very general-in-nature summary; all specifications, information and advice mentioned in this blog page may be outdated or superseded by the time of your reading of this blog page;  information in all DABAS blog pages will be confirmed at the time of you updating into your next vehicle, along with your chosen vehicle's sales representative in their LMCT showroom at the time you transition to becoming a client of DABAS. We look forward to having a chat when the need arises for you to update your car; to assess your personal car-safety requirements and buying needs to suit your lifestyle. And importantly your set specified budget!
Whatever roads your life journey takes you on, DABAS can help you find a car to travel those roads.
When it comes time to update your car DABAS is aware of some things to consider within the many featured model range variants inclusions, plus more of the opposition comparisons, and also things to keep in mind – including when you are trading in your old car at a LMCT used-car yard – and the special trade-in incentives offered on drive-away-no-more-to-pay deals obtainable – at times – within leading brands' Melbourne LMCT new-car dealerships.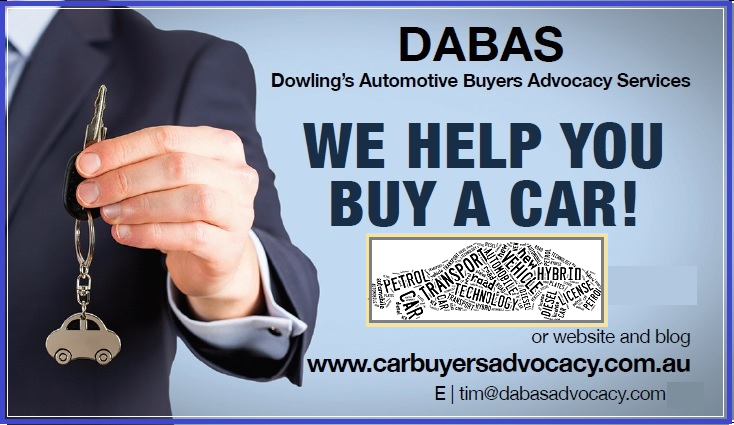 These will be discussed upon your transition to becoming a client of DABAS.
To contact DABAS to discuss your car-buying needs; please click here
For information on seven-seater vehicles that tow; please click here
For information on environmentally minded cars; please click here
To see a self-evaluating check list – is it time to update your car; please click here
To see some interesting things to consider when buying a car; please click here
To see 3 things to consider when moving on from your old car; please click here
For a DABAS blog on comparing vehicle manufacturers' warranty periods; please click here
If you would like to go to the car auctions as an alternative car-buying option; please click here
For "many more" DABAS past blog topics (including towing and tyre safety tips); see our archived index here
For a step-by-step example of a DABAS car-buying journey; please click here
Thanks for visiting DABAS's website and blog;
Have a great day,
Cheers, Tim.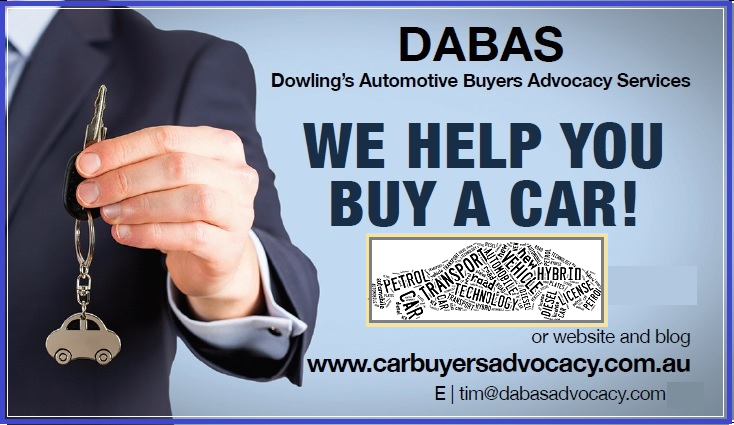 PS; Keep in mind that DABAS is aware of some LMCT dealers that often have this DABAS blog's featured vehicle in the yard for keen drive-away pricing well below the RRPs; these prices will be discussed upon your transition to becoming a DABAS client.
Please note; information mentioned on this page is to be considered as a general-in-nature summary; all information and advice mentioned may be outdated or superseded by the time of your reading of this page; all information will be confirmed at the time of your transition to becoming a client of DABAS.