DABAS BLOG JANUARY 2020:
KIA – its new small SUV, the KIA Seltos range.
Hello readers, hoping your new year 2020 is off to a good start and all your holiday travels went well. It's that time of the year again – yes – now it's 2020 there are many great drive-away deals on MY19-plated vehicles across the LMCT dealerships' sales-boards. Also, Melbourne hosts the Australian Open tennis tournament later in the month with KIA motors being once again a major sponsor.
At last year's Australian Open tennis tournament Kia launched its warmly anticipated new MY19 range of Cerato hatchbacks, with its new Kia Cerato GT variant a feature at the tennis arena.
Now Kia has finally joined Australia's small SUV segment with the Australian sales launch of the all-new Kia Seltos last October (2019) this month the MY20 Kia Seltos is the featured vehicle at the Australian Open tennis tournament.
The Kia Seltos is the Korean carmaker's first global compact SUV; it had its world debut in June of 2019 – so with that in mind – in this DABAS blog post let's move forward with a look at KIA Motors, and its new MY20 KIA Seltos range.
At present the small SUV segment – in which the new Seltos partakes – is led by the Mitsubishi ASX and Mazda's smaller CX-3, with Kia as one of only two mainstream brands to increase its overall sales in 2019; this lead by the Mitsubishi ASX and the Mazda CX-3 may be short lived, as Kia Motors could soon overtake Ford for fifth place in the overall sales tally in Australia this year. Kia Australia's goal is to have 63,000 sales across its entire vehicle range this year. KIA's next expected big growth phase is not forecast until beyond 2022 with the arrival of its first ute, which is anticipated to push the Korean brand's annual sales tally to an expected 100,000 vehicles – enough to overtake Mitsubishi and compete with Mazda and Hyundai for second place behind Toyota. Although we wait for the ute's arrival, estimated to be some time in 2022, Australian sales will also be bolstered by redesigned Sorento and Carnival models plus the all-new Soul and Niro EVs by the end of 2020. As yet – in early 2020 -there is no media news of an even smaller Kia SUV twin which, engineering-wise, could have its twin family DNA platform based on the new Hyundai Venue (from $19,990).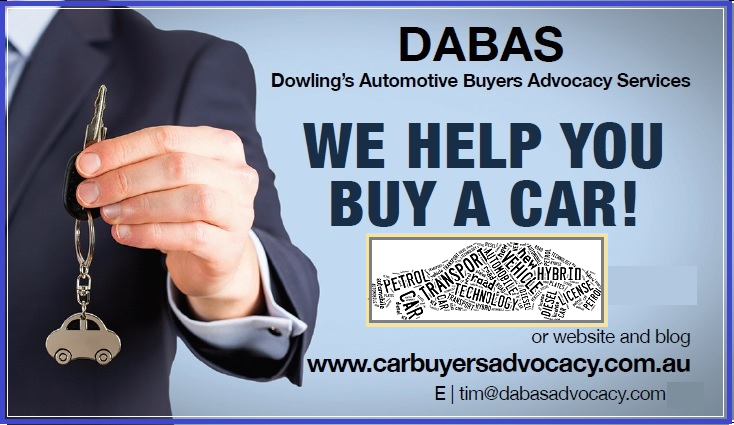 Before we start, keep in mind that when looking at buying a brand-new MY19 or MY20 vehicle as with any big decision, it's best to do research before stepping a toe into an LMCT dealership; DABAS can assist by doing this for you, looking at factors such as fuel economy, safety, technology, servicing schedules and costs, plus added extras that may all help in your final purchase decision, as each vehicle's variant in the model range is usually available with progressing arrays of added inclusions that may suit your personal needs to a tee. Comparing new cars solo by yourself can be very time-consuming, and at times confusing, but with DABAS's assistance the modest service fee charged for our assistance will have been well worth it when you get behind the wheel of your ideal dream car, knowing the vehicle suits your lifestyle and hip pocket, both now and in the long run!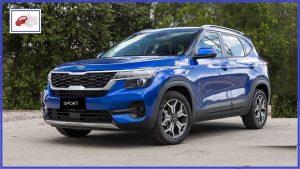 We hope you find this blog post on the new MY20 KIA Seltos an interesting read; by clicking on the included DABAS blog links throughout this post may even shine some light on other information that assists you in selecting a suitable vehicle for your personal car-buying needs by providing some useful "very general-in-nature" information to help you on your vehicle selection journey.
If you would like DABAS's assistance buying a vehicle, please click here.
Let's now have a generalized look at the new MY20 Kia Seltos range.
Here we go,
The Kia Seltos is the third SUV model in Kia Australia's model line-up; we are the third market in the world to receive the new Kia Seltos after Korea and India. The Kia Seltos is currently priced from just $25,990 drive-away; January 2020's pricing is very competitive against its most direct segment rival, the Mitsubishi ASX with its entry level from $23,490 plus on-road costs – as mentioned previously the Mitsubishi ASX is Australia's top-selling small SUV and one of the largest vehicles in its segment. Another segment rival to the Kia Seltos is a twin under another skin, the Hyundai Kona (from $24,000 plus ORCs), on which the Seltos platform is based. The Kia Seltos model range's price extends all the way up to $41,990 and comprises four equipment variants and two petrol powertrains – both with an automatic transmission as standard. Entry to the Kia Seltos line-up is the front-wheel drive S, then Sport and then Sport+ variants which are powered by a 110kW/180Nm four-cylinder 2.0-litre MPi Nu Atkinson-cycle engine teamed with Kia Australia's first CVT auto (not the 2.0-litre eight-speed torque converter auto as found in the Hyundai Kona – Seltos's genetically related twin under another skin). Stepping up in power whilst commanding a $3500 price premium is a turbocharged 130kW/265Nm 1.6-litre T-GDI engine (a detuned version of the Cerato GT warm hatch's engine) matched to a seven-speed dual-clutch auto and all-wheel drive, available optionally in the Sport+ , whilst found standard in the $40K-plus GT Line flagship. Note – Currently there is no diesel powerplant option available in Australia (as available in India).
More details on the Kia Seltos model line-up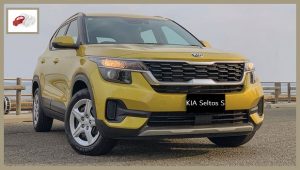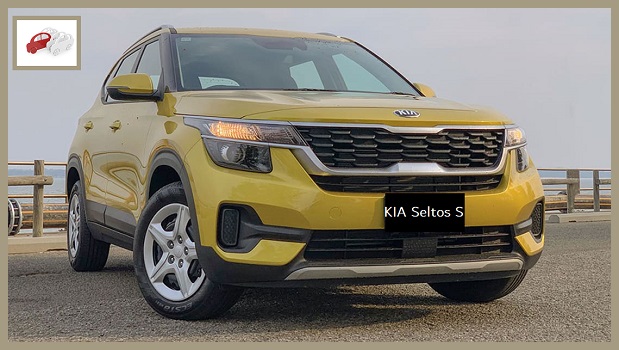 Opening the range at $25,990 drive-away is the Kia Seltos S, fitted with a 2.0-litre CVT 2WD powertrain and 16-inch steel wheels, 8.0-inch mono touch-screen infotainment with Apple CarPlay and Android Auto connectivity, six speakers, cruise control, rear parking sensors, auto headlights and halogen daytime running lights (plus Kia Australia's design engineers have performed rigorous local chassis tuning on the entire Kia Seltos Australian range). Standard safety features extend to a camera-based low-speed autonomous emergency braking (AEB) and forward collision warning system with car and pedestrian detection (operational between 10 and 60km/h), plus lane keeping assist, driver attention alert, reversing camera with dynamic guidelines and six airbags including full-length side curtains but rear lower-side bags. (For an extra $1000, an optional safety pack brings a 'Fusion II' camera/radar-based AEB system that works up to 85km/h and adds cyclist detection, plus Advanced Smart Cruise Control with Stop&Go, Driver Attention Alert+,) an electric park brake, power-folding mirrors, auto up/down driver's window.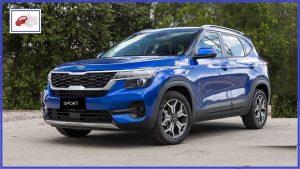 Stepping up to the Sport ($29,490 drive-away) brings 17-inch alloy wheels, a class-leading 10.25-inch colour touch-screen, sat-nav with SUNA Traffic and 10-year MapCare updates, climate-control, premium steering wheel and gear shifter, power-folding mirrors, auto up/down driver's window, auto window defogger, halogen fog lights, solar glass and a full-size spare. *The same $1000 safety pack is available for the Seltos Sport, minus its standard features.
The next rung up the ladder is the Kia Seltos Sport+ priced at $32,990 drive-away (or $36,490 drive-away with the 1.6T DCT AWD powertrain); the Kia Seltos Sport+ adds all of the items in the optional S and Sport safety pack plus Blind Spot Detection/Avoidance, Rear Cross-Traffic Collision Avoidance Assist (RCCA), front parking sensors, cloth and artificial leather seat trim, smart key with push-button start, remote start, LED interior lights, electrochromic rear-view mirror, sliding front armrest and a parcel shelf.
The flagship of Kia Seltos's range is the GT-Line, priced from $41,990 drive-away. It is fitted exclusively with the 1.6T DCT AWD powertrain – which also brings multi-link rear suspension to replace the torsion beam in 2WD models — and a host of extras. Which include Lane Following Assist, Safe Exit Alert, LED headlights, tail-lights, DRLs and fog lights, 18-inch alloys, Interior Sound Mood Lighting, eight-speaker premium BOSE sound, fast wireless phone charger, 7.0-inch driver's instrument cluster, head-up display, premium fauxe leather seats, rear USB outlet and air-vents, 10/8-way power adjustment and heating/ventilation for the driver and front passenger, Aeroblade wipers and a sunroof. Note – The sunroof is unavailable with the GT-Line's no-cost two-tone paint option of a Cherry Black roof with either Clear White or Starbright Yellow body colours. The latter is the only standard paint colour, with all premium hues costing $520 extra: Neptune Blue, Gravity Grey, Mars Orange, Snow White Pearl, Steel Grey and Cherry Black.
Cabin space; The Seltos – presently – brings class-leading interior proportions and technologies to the small SUV segment. The Seltos rides on a 30mm-longer (2630mm) wheelbase and measures 205mm longer overall (4370mm) than its platform DNA sharing Hyundai Kona – Kia reports that the five-seat Seltos offers more passenger and cargo space than any other segment rival – the latter extended from 433 to 498 litres in base models with a temporary spare. Kia reports class-leading rear passenger space with 965mm of legroom, 975mm of headroom and 1395mm of shoulder space, while the 60/40-split rear seat back can recline from 26 to 32 degrees and there is also a sliding front arm rest, large door pockets and an array of cup/bottle holders.
Summarising the Kia Seltos range's running gear – Engine: 2.0-litre four-cylinder petrol, Output: 110kW/180Nm, Transmission: Continuously variable transmission (CVT), Fuel: 7.6L/100km (as tested), CO2: 157g/km (ADR Combined), (as found in the S, Sport, & Sport+)
Kia Seltos GT-Line – Engine: 1.6-litre four-cylinder turbo-petrol (*This running gear is also available as a Sport+ option), Output: 130kW/265Nm, Transmission: Seven-speed dual-clutch automatic, Fuel: 9.7L/100km (as reported), CO2: 175g/km (ADR Combined).
Warranty – the Seltos benefits from Kia Australia's generous seven-year factory warranty and roadside assist programs.
Safety rating – The KIA Seltos has obtained a 5 star safety rating.
Q) What is the Kia Seltos's MY20 price range?
A) The S (2.0 FWD CVT) is priced at $25,990,
The Sport (2.0 FWD CVT) is priced at $29,490
The Sport+ (2.0 FWD CVT) is priced at $32,990, The Sport+ (1.6T AWD DCT) is priced at $36,490
The Top of the range GT Line flagship (1.6T AWD DCT) is priced at $41,990.
The optional Safety Pack (available to add to S and Sport) is priced at $1000.
Premium paint is priced at $520.
Note – all prices on above vehicles are drive-away.
Note – Kia's Australian office does warn that presently due to Australian vehicles being sourced from Kia's Gwangju factory in Korea – which also supplies the US market – the Australian ration of Seltos vehicles has been limited initially to just 650 vehicles a month at present. The Kia Seltos is also produced in Kia's Chinese and Indian factories; *exclusively for their own local market.
At DABAS we know that buying a car to suit your needs can be one of the biggest purchases in your life. We hope this intended to be "general-in-nature advice and information" blog page has provided some helpful assistance for you in deciding the path of your car-buying journey. Please note any examples, options, pricing and information mentioned in these blog posts are to be considered as a very general-in-nature summary; all specifications, information and linked advice mentioned in this blog page may be outdated or superseded by the time of your reading of this blog page;  information in all DABAS blog pages will be confirmed at the time of you updating into your next vehicle, along with your chosen vehicle's sales representative in their LMCT showroom at the time you transition to becoming a client of DABAS. We look forward to having a chat when the need arises for you to update your car; to assess your personal car-safety requirements and buying needs to suit your lifestyle. And importantly your set specified budget!
Whatever roads your life journey takes you on, DABAS can help you find a car to travel those roads.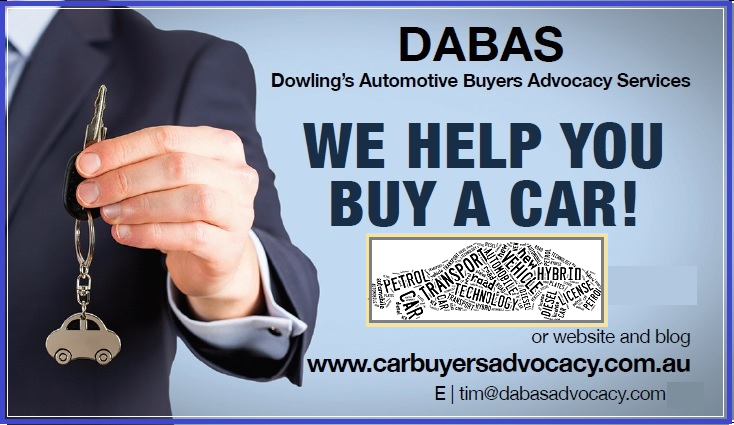 When it comes time to update your car DABAS is aware of some things to consider within the many featured model range variants, inclusions, plus more of the opposition comparisons, and also things to keep in mind – including when you are trading in your old car at a LMCT used-car yard – and the special trade-in incentives offered on drive-away-no-more-to-pay deals obtainable – at times – within leading brands' Melbourne LMCT new-car dealerships. These will be discussed upon your transition to becoming a client of DABAS.
To contact DABAS to discuss your car-buying needs; please click here
For information on Hybrid and environmentally minded cars; please click here
If you would like to go to the car auctions as an alternative car-buying option; please click here
For "many more" DABAS past blog topics; see our archived index here
Thanks for visiting DABAS's website and blog;
From all the team at DABAS have happy and healthy year ahead in 2020,
Have a great day, Cheers, Tim.
–Please note; information mentioned on this page is to be considered as a general-in-nature summary; all information and advice mentioned may be outdated or superseded by the time of your reading of this page; all information will be confirmed at the time of your transition to becoming a client of DABAS